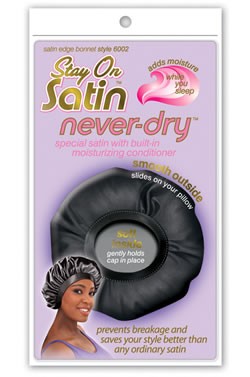 Stay on Satin is a brand for satin bonnets that many  women use on the daily. I decided to review their product "Never Dry"  to see if the product actually leaves your hair "never dry"
This particular bonnet is very easy to use. You simply cover your head and wear it overnight. This particular style is supposed to keep your hair moisturized over night. It has an elastic band around its perimeter that helps to keep the bonnet on your head at night.
Does it live up to its name? I definitely  think this product fulfills on its claim. The bonnet kept my hair feeling moisturized after wearing it. However, this bonnet is not a miracle worker! It will not  MAGICALLY turn your hair from frizzled and fried to lush and moisturized. However, it will keep your hair from drying out, especially if you moisturized it before you put it on.
PROS: Comfortable, Stays on all night, Keeps hair moisturized
CONS: The "reusable bag" is not reusable
Overall, I think it is a great staple product that every woman who wants to protect and moisturize her hair at night should invest in! It's easy to use and very inexpensive.
Note: Satin bonnets are not made to be used forever. The product is made to work for "approximately 2 months". So, if you put it in the wash and wear it for a year, don't blame the company if the bonnet is not "living up to its name".
Check out my video review here: http://www.youtube.com/watch?v=HF8K1VDk_Kc
Check out more of their products:
www.stayonsatin.com
www.facebook.com/stayonsatin
www.twitter.com/stayonsatin
Also, don't forget to comment!
The following two tabs change content below.
Rana Campbell is the Editor-in-Chief and Founder of Ranacampbell.com, a site dedicated to personal branding and helping people learn how to SHINE in their personal and professional lives.
Latest posts by Rana Campbell (see all)
Tags: beauty, Hair Care, haircare, never dry, product review, rainshineluv, Satin, stay on satin, Twitter, you tube