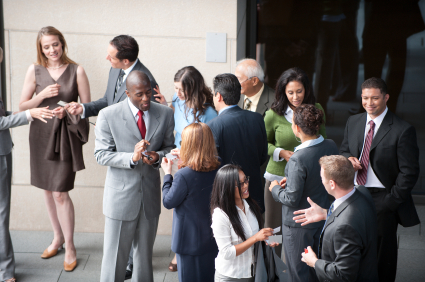 A version of this post originally appeared on Madame Noire Business. Read it by clicking here.
I'm sure many of you have heard the saying, "It's not what you know but who you know."
Many of the career opportunities that have come my way have been because of connections I've actively made (and maintained) in the past. For me, networking has been an extremely effective way of advancing professionally.
Here are five ways that you can become a better networker in 2014.
SIGN UP FOR EVENTS AND ATTEND THEM
Attending events is a great way to meet new people and create connections with other professionals. I signed up to be a volunteer for a Black Public Relations Society of NY game night last year. Best decision of my life. At that event, I met Rosemarie Reyes, founder of Handzdirty PR. We later chatted about ways we could collaborate. I showed her my work and she later hired me as a freelance publicist for her firm. Find local events in your area on sites like meetup.org so start becoming a better networker.
ASK FOR INFORMATIONAL INTERVIEWS
I briefly met Paula Renfroe, the editor in chief of Juicy magazine at an event she hosted this summer. A few months later, I reached out to her via email requesting an "informational interview." She kindly agreed and we met up one evening after work to discuss her career journey. The meeting was fabulous and she even connected me to another industry professional she thought it would be good for me to talk to. Sometimes, simply reaching out to people you find inspiring and asking to take them to coffee to "pick their brain" is a good strategy for networking. Be genuine and show interest, and you'll be surprised how many people say "yes."
PAY IT FORWARD
When someone takes the time to speak to you, make sure you think of ways that you can be of use to them. When I interned at a digital marketing agency this past summer, I immediately knew that my long-term mentors from CBS Communications, Gabrielle Simpson, had to meet one of my supervisors, Amirah Mercer, a content strategist. I was able to connect the two and like I thought, they hit it off because they shared similar interests and goals. I was so glad to be able to make that connection for someone who had always been instrumental in helping me throughout my career journey.
BE MEMORABLE
Every time I meet or talk with someone, I try to make sure they remember who I am. This means you have to have a clear sense of who you are and what some of your goals (short-term or long-term) are. If people can remember things about you that make you special or that you're interested in, they'll more likely to call you up if they know of an opportunity that might be a fit for you. For example, I recently received a call from Sakita Holley, a PR Professional I spoke with in May 2013, who heard of a strategy opportunity that she thought I'd be interested in. Her words to me were, "You were the first person I thought of." Make sure people have a reason to remember you. That also means you have to follow up with them from time-to-time to stay on their radar.
BE ACTIVE AND SHOW VALUE
I'm very active on social media. I try to tweet and Instagram things relating to my brand that are of interest to others such as branding, fashion and beauty news, and entrepreneurship. I also write weekly on my personal blog. Being active on the web is a great way to connect with others in your field who are talking about the same things you are. When people see you as someone who adds value to their life, your credibility goes up and you might even have people reaching out to you for advice.
Regardless whether you're still in school, working a 9-to-5 or self-employed, networking is a great way to build your network and start making connections that could change your life. Become a better networker in 2014.
What are some other tips you have for becoming a better networker? Feel free to take to the comments below.
Rana Campbell is a professional branding strategist who helps brands succeed in the digital realm. Follow her on Twitter, Instagram or Linkedin.
The following two tabs change content below.
Latest posts by ranacampbell (see all)
Tags: business, life tips, networking, professional tips