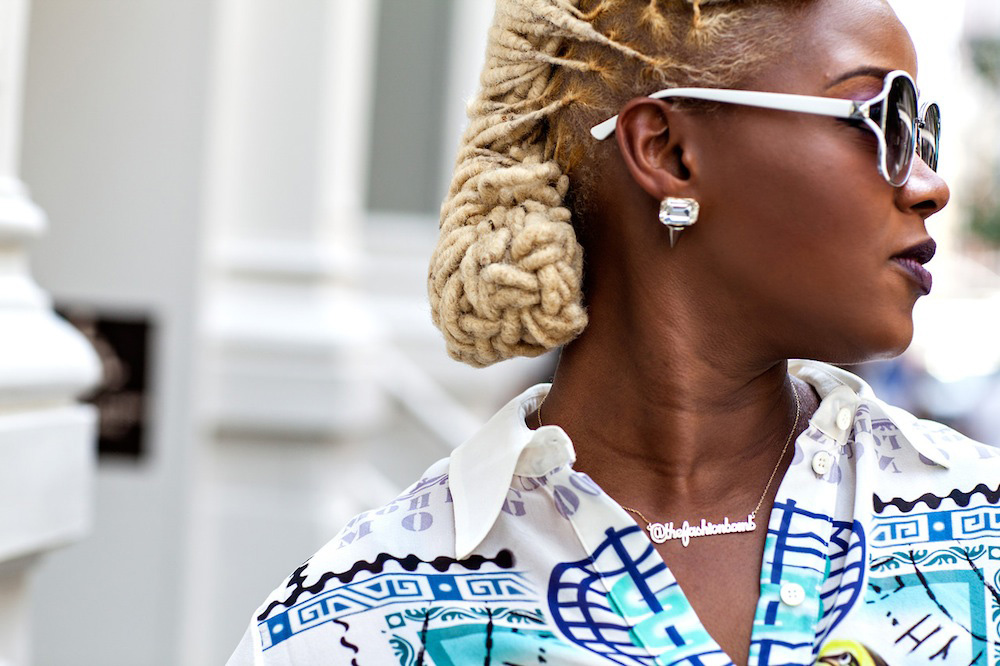 Recently, I had the opportunity to briefly catch up with Claire Sulmers, founder and creator of one of the bombest fashion blogs out – Fashion Bomb Daily. Claire had just spoken on an expert panel with other beauty and fashion creatives who were sharing their advice on making it in the industry. Claire was headed to another event, but I was able to get some advice from her about remembering to "keep on keeping on!" Check out what Claire had to say below:
Rana Campbell: You went to Harvard and look at all you have accomplished since then… your story is inspiring! Can you share any words of advice to people who may be afraid to take the next step towards pursuing their dreams?
Claire Sulmers: Keep on keeping on. A lot of people don't go into the [fashion] industry because you don't make a lot of money at first. . Obviously your education comes in handy. It's always good to be dropping that bomb, " I went to Harvard!" but you just have to do it. There aren't enough ivy leaguers, [or better yet] black women in fashion. Obviously, I have a fashion blog but I am also going to Fashion Week in Milan, Paris, and London and work for Italian Vogue doing all these other things. A lot of people don't want to make that sacrifice. [I think] you can still always  use the skills you learned in school. Just keep at it.
*********
I don't know about you, but I found Claire's words to be incredibly inspiring, even for the brief second that we spoke. What resonated for me was the willingness we need to have to MAKE SACRFRICES and HUSTLE HARD. In fact, that is why many people don't go out there and pursue their dreams.
In a follow-up, Claire explained that her friends who chose more "traditional" routes started making "big bucks" really early on in their career. Sometimes it can be difficult to stay motivated, but she urged, to "keep pressing on, because eventually you can make the 6 figure salary." With that being said, she continued to work hard and now is a very successful fashion blogger, doing what she loves.
Think about how much more you could be fulfilled if you "kept at it" and refused to compare yourself to others. Focus on what you want and work hard on making it happen, even it means you have to work really hard. It will pay off.
What did you think? Stay tuned for next week's #motivationalmondays.
Like what you read? Click here to get my blog posts delivered straight to your inbox.
Don't forget to follow me on Twitter and Instagram .
The following two tabs change content below.
Rana Campbell is the Editor-in-Chief and Founder of Ranacampbell.com, a site dedicated to personal branding and helping people learn how to SHINE in their personal and professional lives.
Latest posts by Rana Campbell (see all)
Tags: beauty, career advice, claire sulmers, fashion bomb