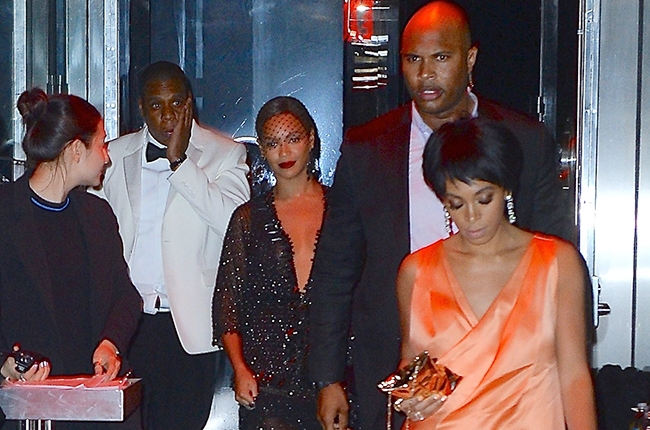 Keep your cool. You're always being watched.
If you were like me when the footage showing Solange attacking Jay-Z in an elevator was released by TMZ, you were probably thinking, "What the hell happened?" While many people have theorized and expressed their opinions on the details of the night, I actually thought there were some great personal branding gems that came out of the incident.
 Here are 3 tips on personal branding I learned from Solange, Jay-Z, and Beyonce.
1. Pick your battles wisely. This gem came from Beyonce. It's never cool to flip out or "lose your cool" in public. Though I don't know the details of what really happened, whatever it is, Beyonce chose to not react while she was "out of the house." This serves as a reminder to not only keep your composure in public, but to also decide what battles you want to fight. If you really believe you need to intervene in a situation, then do so, but be ready to defend and justify your actions. Maybe it just wasn't worth it to Bey. That's okay. Though not everyone can be so composed at times, there is much to be said for the person who doesn't act up in public. Bey was sure to remember this even though she was behind closed doors and could have easily intervened. What will be the consequences of you reacting to a situation in public? Think it through and then make your decisions.
2. Don't act a fool in public. I think this one is pretty given. Unless being rowdy is part of your brand/cause or you're defending yourself against attack, in my opinion, it's always best to just wait until you get home (and out of the public eye) to settle a dispute.  Solange probably didn't think there were cameras in the elevator, but guess what? Cameras are everywhere. Many times we don't stop to think about who (or what) is watching us. Though it may have be hard to control your emotions all the time, it's never acceptable to act out like that, especially in a public place. It just gives people reason to throw dirt to your name. Now, because both camps will probably never come out with a release that actually explains the incident, there's just so much open space for people to soil Solange's name and make their own conclusions. Deleting all her pictures with her sister Beyonce on her Instagram  isn't making the speculations any better, either. Even the joint statement their reps made calling the incident a "private matter" and  that the two "have apologized to each other [and]  have moved forward as a united family" is still not going to repair the questions on personal branding that have erupted. Private matter or not… it happened in public and people are going to speculate.
3. Keep consistent with your image. Who really knows how Jay wanted to react when his sister-in-law started trying to beat him up?  One thing we do know is that Hova was NOT about to be portrayed as a woman beater by hitting her back. If he even put his hands on Solange, many of his fans and supporters would have probably turned their back on him. Within public American celebrity culture, it's just never okay for a man to hit a woman. Plus, Jay-Z already had created the image of him being against violence against woman with his public shaming of Chris Brown during the Rihanna/Chris scandal. If you are against something, you can't just switch up your stance in order to justify an action that would be deemed reprehensible. People don't like inconsistency. So while people are out here commending Jay for not hitting Solange back, he may have really wanted to but was thinking of how bad this would reflect on his image. Kudos to him on that one. Thinking smartly.
A version of this article also appears on Madame Noire. Read it here.
What other tips on personal branding did you learn from the Solanjay incident? Comment below and I'll be sure to reply!
Follow me on Instagram, Twitter, and Google +. 
The following two tabs change content below.
Rana Campbell is the Editor-in-Chief and Founder of Ranacampbell.com, a site dedicated to personal branding and helping people learn how to SHINE in their personal and professional lives.
Latest posts by Rana Campbell (see all)