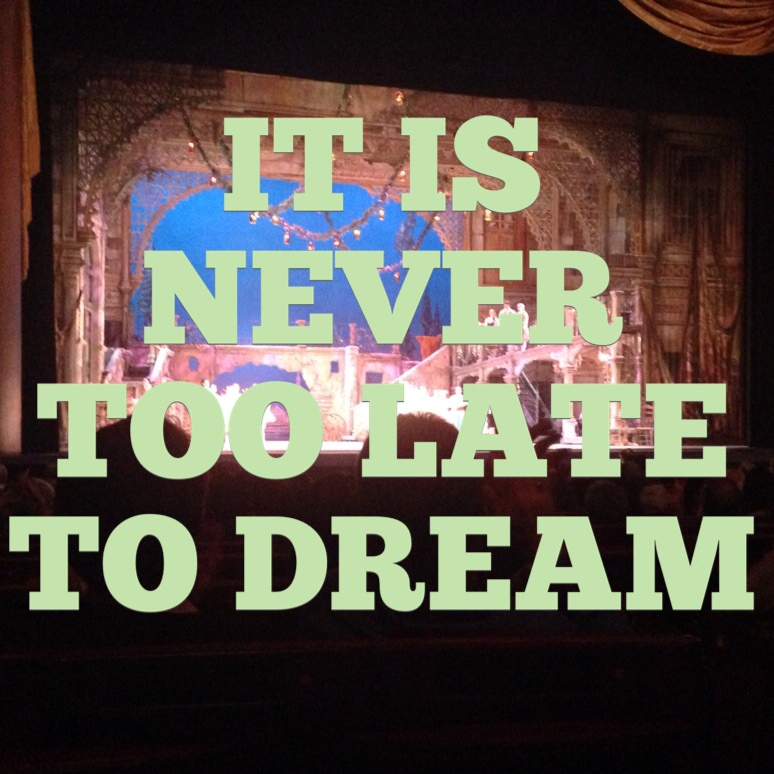 Dream On.
It's the morning of my birthday, May 20. I'm 23. WOW! I remember turning 4. This is crazy… but anyways, let's get to it:
Over the weekend,  I had the pleasure of attending the American Ballet Theater's presentation of Don Quixote at the Metropolitan Opera at Lincoln Center.
I was mesmerized by the dancers – both male and female- that gracefully lit up the stage.
I couldn't help but think, "Why didn't my mom ever put me in ballet classes?" As a child, I had begged her, but she always told me to "look them up", which I never did.
I couldn't help but think to myself, "I WANT TO BE A BALLERINA!" Right now. Right then. Right there. I was going to leave the opera house and run downtown to Broadway Dancer Center and sign up for dance classes and become the next world-class classically trained professional ballerina… in a few weeks.
Can you picture it?
I could.
Rana Elyse Campbell:
 The wannabe ballerina.
"Thick" because I'm in no way built like a ballerina. Casting directors would probably be appalled by the site of me if I went into an audition, as bootylicious as I am! (*wink wink*) Also, "wannabe" because performing at such a high level as those women and men on stage takes decades of practice and skill, which I'd have to learn, from scratch. A few weeks wouldn't be enough time.
Yeah.  We all know those ballerina dreams of mine were probably not going to prevail.
So then, you ask….what's the point of this post?
Here's the point:
It's never too late to dream.
It's never too late to be who you want to be or do what you want to do.
The only person holding yourself back is you.
That trip to the ballet stirred in me childhood memories of desiring to be in front of an audience and performing. Those first memories of "big dreams". It made me think of the emotions one feels when you do what you love and are able to share it with the world.  The joy of pursuing a passion.
The energy and power those dancers exuded from the stage inspired me. They spoke to me without using words.
So now, I speak to you:
Continue dreaming.
Former CBS 60 Minutes Correspondent, Byron Pitts once told me, "If your dreams don't scare you, they aren't big enough."
And you know what… if I really want to be the next star ballerina, I can be. My height, weight, level of experience shouldn't stop be from putting my all into making a dream of mine comes true. Sometimes when we pursue a dream, other opportunities unfold and expose us to new paths and avenues of pursuit.
Oftentimes, we think that that it's "too late". Too late to begin. Too late to stop. Too late to try. Too late to say no.
My answer to that is "IT"S NEVER TOO LATE!"
So go out and do what you've been putting off. Go make that first step, and watch as lots of good things come your way!
And  no worries, I'm not going to stop what I'm doing and train to become a ballerina. That isn't my dream anymore 😉
P.S Go follow me on Instagram, Twitter, and Google +. Why should you? Well, if I told you here, there'd be no reason for you to go to the sites.
The following two tabs change content below.
Rana Campbell is the Editor-in-Chief and Founder of Ranacampbell.com, a site dedicated to personal branding and helping people learn how to SHINE in their personal and professional lives.
Latest posts by Rana Campbell (see all)
Tags: ballet, career advice, dreams, life tips