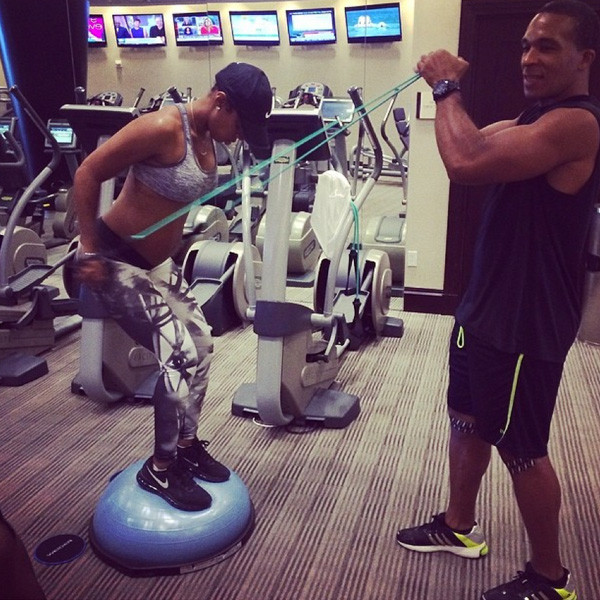 Need some inspiration to work out that body of yours? Working out is important for maintaining balance in your life.
Though many of us regular folks might not be able to afford a personal trainer, personal chef, or fancy exercise tools, these ladies are great motivation for developing and maintaining a healthier body and lifestyle.
As a lover of fitness and living a healthy life, here's my selection of some of my favorite female "celebrity" fitness crushes on Instagram. Some love sharing their fitness adventures with their Insta followers, while others are just killing the game whether it be bouncing back from pregnancy belly or just living (and showing off) their healthy lifestyles and bodies.
1. Jeanette Jenkins
Celebrity fitness trainerJeanette Jenkins is a force to be reckoned with. Her client roster includes top names such as Pink, Swizz Beats, Tia & Tamera Mowry, BET's Debra Lee, Shonda Rhimes, Queen Latifah and more. This picture makes me want to go to the beach with dumbbells and all, just to work out… forget sun bathing.
2. Shaniece Hairston

Evelyn Lozada's firstborn Shaneice Hairston is no stranger to the spotlight. With a budding modeling career, Shaniece loves showing her IG followers how hard she works out in the gym. Her pics are hot and we aren't hating. Do ya thing, boo.
3. Kelly Rowland
To get more of my articles and advice delivered straight to your inbox, click here.
Even with a baby bump, Ms. Kelly is hitting the gym. Say it with… YOU GO GIRL!
4. Serena Williams

As someone who has a booty (that is often highlighted in the media and across blogs) , tennis champion Serena Williams has never let critiques of her figure affect her game. She is a daily testament to the sentiment, "Work with what ya momma gave ya!"
5. Amber Rose
After opting to lose her post-pregnancy baby Sebastian weight the natural way through diet and exercise, Amber Rose tops the list of mamas who rock. It takes a strong commitment to health and fitness to bounce back to a pre-baby body.
6. Massiel Arias

When I think of celebrity fitness trainer Massiel Arias, one word comes to mind: abs. Massiel is the definition of a strong woman. Her daily posts involve some extreme core strength that are a result of targeted body-pushing workouts.
7. Tracee Ellis Ross

Tracee is probably the only person in the world who can turn a fitness workout into a comedy routine. If you ever need a hilarious take on a workout session, follow her account to laugh off the burn of leg day pain.
8. Rosa Acosta

Follow Rosa on Instagram and you'll know this woman eats, sleeps, and breathes fitness. She loves changing up her routine and sharing with her fans her favorite workout tools and fashion tips, too.
9. Lala Anthony

With a husband that has to stay fit for a living, Mrs. Anthony also does a great job of hitting up the gym and keeping her curvaceous body in shape. One of her secrets? Celebrity trainer Gunnar Peterson.
10. Jennifer Hudson

Jennifer Hudson is a perfect example of "if there is a will there is a way." As a formerWeight Watchers celebrity spokesperson, Jennifer Hudson made a dramatic 80 lb weight-loss and inspired many women to pursue their weight loss goals.
11. Sandra Richards Ross

A beauty on and off the track , Olympic gold medal winner (and one of the best 400m runners of all time), Sanya Richard Ross, knows how to make running look sexy and run. However, no matter how fashion-forward she makes the sport to be, I'll pass on a race with her.
12. Angela Simmons

Angela loves using Instagram to show off her smokin' bod and her daily fitness adventures. She reminds us regular folk that even for celebrities it takes actual work to get results in the gym.
13. Misty Copeland

To all the Misty Copeland haters out there, this one is for you : "Ballerinas are badass athletes, too". After signing with fitness & lifestyle giant, Under Armour, Misty has helped changed the definition of what makes the modern athlete. Plus, her Instagram videos of her daily rehearsals is a reminder that with anything in life, "practice makes perfect." P.S Those calf muscles though….(*drool*)
14. Candace Parker

WNBA player Candace Parker loves showing off her what makes her a "superwoman." (Make sure you watch the video to get the reference.)
15. Beyonce & Her Dancers.
Yes… I couldn't resist. As someone who danced throughout college, I have so much respect for professional dancers who put their bodies through strenuous wear and tear day in and day out. Rocking out every day takes a lot of stamina, muscle strength, and endurance. My favorite thing about Bey and her background dancers? They represent a wide variety of body types.

Who did we miss from the list?
Share your favorite celebrity fitness crushes in the COMMENTS section below.
To get more of my articles and advice delivered straight to your inbox, click here.
Rana Campbell is a branding professional who helps brands succeed in the digital and social media spheres. Check out some of my other work here. Follow me on Twitter, LinkedIn, orInstagram.
Got a question? Send me an email at rana@ranacampbell.com
The following two tabs change content below.
Rana Campbell is the Editor-in-Chief and Founder of Ranacampbell.com, a site dedicated to personal branding and helping people learn how to SHINE in their personal and professional lives.
Latest posts by Rana Campbell (see all)