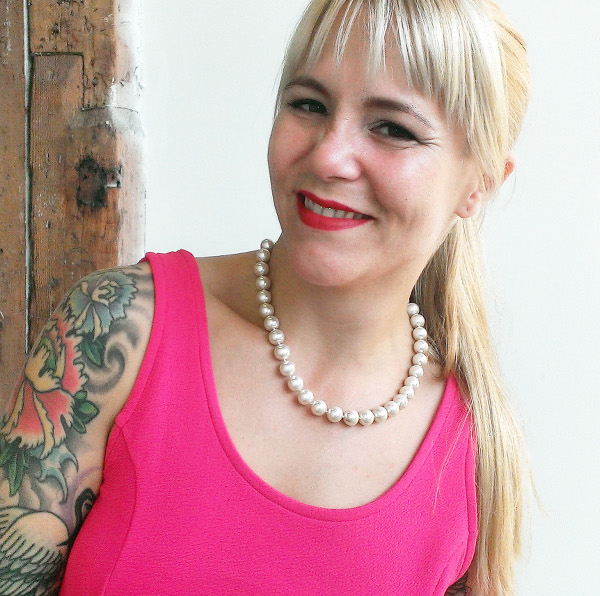 Find out how identifying a company need changed Landra Lee Dulin's career.
I caught up with Landra Lee Dulin, the brain behind  SimplicityLine.com, a fashion &  apparel e-commerce site. Read on to find out what Landra's first job within her company was and how she ended up running the women's fashion apparel site. (SPOILER ALERT- it didn't exist before she was hired.)
Her story will definitely inspire you to start looking for ways that you can create a dream job,  project, or position within your existing job that plays to your strengths and interests and gives you the satisfaction of the career you've always dreamed of.
BRANDMAKERS is a series highlighting individuals who are SHINING (aka killing it and raising the bar) in their respective industries. Know someone who should be featured? Contact rana@ranacampbell.com
Rana Campbell (RC): What's the story behind SimplicityLine.com?
Landra Dulin (LD): When I moved back to Los Angeles about a year ago, I was hired as an apparel and intimates buyer for a large scale Amazon and Ebay retailer. I was amazed to find that the business was relying solely on platforms where you are basically an anonymous vendor. I thought it would be a good suggestion to start a website so we could try to attract repeat customers. We actually started SimplicityLine for their own line of accessories – Simplicity hats, scarves, gloves, bags, and blankets. Over the past six months, our website has undergone a big transformation.
RC: How did you start Simplicity Line?
LD: I have always thought that it would be fun to start an online boutique, but never really had the means financially to do it on my own, so when I saw the opportunity to give it a go with a whole warehouse of product waiting to be sold, I  decided I had to ask for it. It took many meetings and juggling of resources, but my supervisors agreed to giving the website a new look, which is where we're at today. Luckily we already had most of the puzzle pieces – we just had to create a new picture out of them. It's a work in progress – but it's been an exciting and insightful experience!
RC: How did identifying a "company need" within your organization change your career?
LD: My boss has said during many meetings that the best managers are the ones who are always fighting for his time, trying to bring up new suggestions, or ideas of new strategies. Everything in life is a matter of trial and error. If you want to try something new at work, put together a proposal of what you would like to do, and how it can benefit your organization. You may be able to create yourself a new position!
RC: What advice would you give to others who want to pitch a special project at work?
LD: Taking initiative is never a bad thing as long as you're well-prepared, respectful, open to learning and change, and try not to step on anyone's toes along the way. Every employer wants to get the most out of their employees. Ultimately, business is business, and any good supervisor knows that any idea that could potentially help the company is worth listening to. If you see room for improvement, or a need for something, don't be afraid to speak up! As my dad always used to tell me, "The squeaking wheel gets the grease."
RC: What's something often misunderstood about what it takes to run an e-commerce site in the fashion industry?
LD: A common misconception is that it's all going to be creative, fun and easy. There's a ton of technical back-end. Getting traffic is a major hurdle to jump, and it's a never-ending job to keep it coming. Keeping your customers engaged is really a full time job. Shipping costs and packaging all add into the equation – and then you have returns and exchanges and keeping track of SKUs and inventory – keeping stock on popular items, and the trouble of what to do with ones that are less popular, etc. I use Excel A LOT. 
RC: How do you see Simplicity Line growing in the future?
LD: My goal at this point is to get www.simplicityline.com more exposure and keep expanding our selection. Perhaps in the future we will be able to create a line of Simplicity basics in addition to our accessories and all the great brands we currently carry. I think it's important that we just keep listening to what our customers want and pay attention to what is selling We've been getting lots of great feedback about our plus size fashions, and people love our affordable prices.
RC: What's one of your personal strengths that has helped you SHINE? 
LD: Flexibility. Maybe a little bit of resiliency. You have to be able to identify your strengths first and not be afraid to ask for help with other things. As long as you believe in yourself and your goals and are able to roll with the punches and keep at it, almost anything is possible. You just have to keep at it. It takes a lot of tumbling to polish a stone. I think that's what makes someone shine – believing in yourself and just not stopping.
Have you ever pitched a special project to your boss that ending up changing your career? If so, please share in the COMMENTS section.
. SHINE MORE. SHINE BETTER. FOR ACCESS TO FREE WEEKLY ADVICE AND INSPIRATION, JOIN OUR MAILING LIST BY

CLICKING HERE
The following two tabs change content below.
Rana Campbell is the Editor-in-Chief and Founder of Ranacampbell.com, a site dedicated to personal branding and helping people learn how to SHINE in their personal and professional lives.
Latest posts by Rana Campbell (see all)
Tags: brandmakers, career, career advice, how to