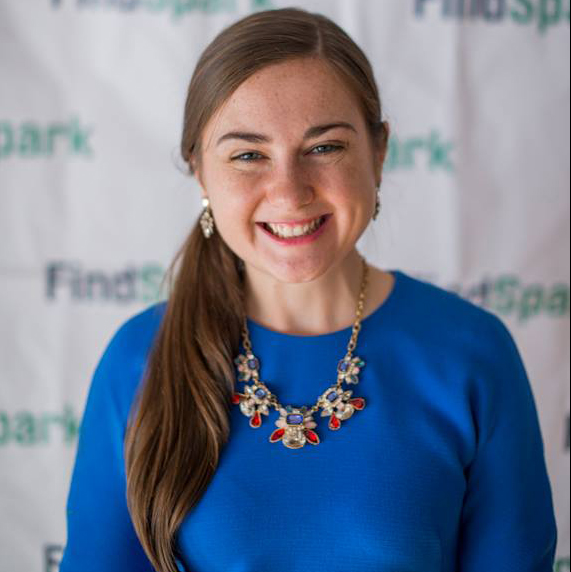 Hang in there. It will all work out.
Has there ever been a time in your life when you felt like you weren't good enough? That all your hard work wasn't going to pay off? That your ideas for success just weren't "good enough?"
It happens to the best of the us.
When I'm feeling like this, I turn to others for inspiration. Whether it's my favorite blog (Lewis Howes' podcasts have been on heavy rotation lately), going for a run, or watching a good movie, sometimes you have to take the time to refocus and remind yourself why you started in the first place.
That's what I love about the BRANDMAKERS series.
I love connecting with other professionals who were once, like me, at the start of their journey. The insights they share help me realize struggles are part of the journey.
Focusing and believing in the power of the mission you have carved out for yourself pays off if you see it through.
Working on your personal brand and building connections is also very important.
For today's BRANDMAKERS, I'm interviewing Emily Miethner, the founder and CEO of FindSpark, (formerly NY Creative Interns), a community dedicated to setting up every young creative for career success. Emily got the idea for the company while a student at Hofstra University and worked over the years to build the organization from a small meetup to a full-fledged thriving  online (and in-person) community and resource for creatives around the country.
As Emily shares, "Building anything takes a really really long time." However, she was able to persevere through tough and rocky times in order to help see FindSpark to what it is today.
Check out the interview below and be inspired by Emily's story. She shares how she built her community in the early days, business challenges, successes, hopes for the future and more.
BRANDMAKERS is a series highlighting individuals who are SHINING (aka killing it and raising the bar) in their respective industries. Know someone who should be featured? Contact rana@ranacampbell.com
What inspired you to start FindSpark?
Emily Miethner (EM):  I was a young creative myself. I was a Fine Arts major at Hofstra University. I started to realize that there was a definite lack of career resources for creatives.I wanted to start something that would encourage young creatives to really take advantage of the power of networking, personal branding, the internet, and focusing on their careers. It started as a meetup and as a side project. I worked on it nights and weekends for the first couple of years. Now I work on it work full-time.
What were some of the first things you had to do to get the organization going?
EM: Coming up with a name was a big challenge. After the encouragement of someone I  met at an event, I was told I should just start a meetup group. Everyone on meetup had a very literal name so we ended up with NY Creative Interns. It took us a very long time to change our name. That was a big struggle coming up with the first name and then changing to our new name FindSpark. It  was definitely a rocky road.
How did you build your audience in your early days?
It really started with my personal network. This was an actual problem that I wanted to solve. I knew I was doing it because there wasn't anything like it out  there for my peers. At first,  I shared through my personal Facebook and personal social media. I did a lot of organic word of mouth and emailing. I asked for friends and family  to share with their friends. I created a website and a blog and asked my  friends and people that I admired to write about the issues that they were facing. That was very huge and filled up a lot of organic SEO (and content) for our blog.
How important has building your personal brand been for FindSpark's growth?
During my first six month review at my first job, they said one of the things that they felt was valuable about me was my network. I was networking and thinking about the company and how i could make connections. If you have your own company, that's also important.
Me having a great personal brand is  huge for FindSpark. I am definitely the face behind the company. People look to me as an example for everything that we talk about. I try to make an effort to really push myself and put myself out there, share content, and to talk about what we're doing. That's incredibly powerful to FindSpark. Things are just a little bit easier if I need a sponsor, speaker, or volunteer (for FindSpark) because I have built up a great personal network.
How can others can build their personal networks?
Go to a lot of different events when you are starting out. Go to events that may not be exactly right for your industry or may be about a broad topic for your industry.  You'll learn something and meet interesting people.
What are some challenges you're facing now with FindSpark and how is your team working to overcome those challenges?
We know exactly what our mission is. We know what the topics and the things that we need to reach our community. The challenges we face now is how do we deliver the content. Is it video, blog posts, social media, or graphics? We have different ways of getting incredibly helpful information into the hands of our community.  For example, we launched a membership program. We're always coming up with new ways to connect with the community. [One example is our new] mentorship program. The fact that we have an in person community [is great].
 What has been the biggest reward of being a full-time entrepreneur?
It's amazing to  know that even through all the admin, payroll [and] everything we're working on, we are changing lives.
We are changing lives.
The information we are sharing is helping people build their careers. That's really a big motivator for everyone here.
Where do you see FindSpark going in the next few years?
Something that we are working on is a campus ambassador program that feeds into a bigger program called FindSpark Verified. We have two programs for college students. We are working on building the college community and training a generation of leaders so that we can use them to spread the good word. We're trying to create and educate. We're focused on the education side to make sure that ultimately we are seen as a community where all of our applicants are stellar. We want companies to say, "I'll go to FindSpark for all my creative internships and entry-level talent."
What's one thing you regret and why?
I would have started my email list earlier. Even though we reach people on social media, it's not as personal. With email, people are choosing to let you into their inbox. That is incredibly powerful. Give people a way to sign up for some sort of list because otherwise you are  missing out on capturing the people who want to know about what you are doing.
What advice would you give to someone just building their brand?
Learn the legal language of whatever you're building to make sure you are not putting yourself in any legal trouble. You need something to protect yourself  because there are crazy people out there. You just want to ensure that if someone is going to come after you, you won't have to worry about it.
 It's [also] important to surround yourself with really positive and optimistic people.
What are your personal strengths that have allowed you to shine throughout your career?
I try to make connections with people that I know. I'm really good at remembering faces and names. That's been really helpful.
For example, on the FindSpark Instagram, we only follow companies or people that have spoken at our events. This one company kept mentioning me. I noticed there was a girl in some of their photos, and I thought her name sounded familiar. I went to her Instagram feed and realized I'd seen her at FindSpark conference. I got a little obsessed and went through all of her Instagram and found that she was at our April 2013 conference. I commented on a picture and said, "Hey, we thought you looked familiar. Congrats on your successes…" She replied and said, "Thank you for having me. FindSpark is the reason I got this job." That was so cool. if i hadn't recognized the Instagram handle and taken the time to look through her feed and comment on her post, I would have never found out she got the job through us. That's the kind of little thoughtful things that I do.
What's the best business advice you ever received?
Be naive and overly optimistic. I've found that's when I've pushed the furthest and accomplished things that I did not think could be accomplished.
While working with schools like The New School and Pratt Institute to do these huge conferences, I could have gotten bogged down with the details of how much work it would be and stressed myself out. [I pushed] myself and the team and it all worked it.
Things usually will work out. Even if it didn't go as well as you expect, there's nothing that is usually the end of the world.
Things usually will work out. Even if it didn't go as well as you expect, there's nothing that is usually the end of the world.
What's something you learned from Emily's BRANDMAKERS interview that you want to start working on in your own life and business? COMMENT BELOW!
SHINE MORE. SHINE BETTER. FOR ACCESS TO FREE WEEKLY ADVICE AND INSPIRATION, JOIN OUR MAILING LIST BY

CLICKING HERE
The following two tabs change content below.
Rana Campbell is the Editor-in-Chief and Founder of Ranacampbell.com, a site dedicated to personal branding and helping people learn how to SHINE in their personal and professional lives.
Latest posts by Rana Campbell (see all)
Tags: brandmakers, business, college, entrepenership