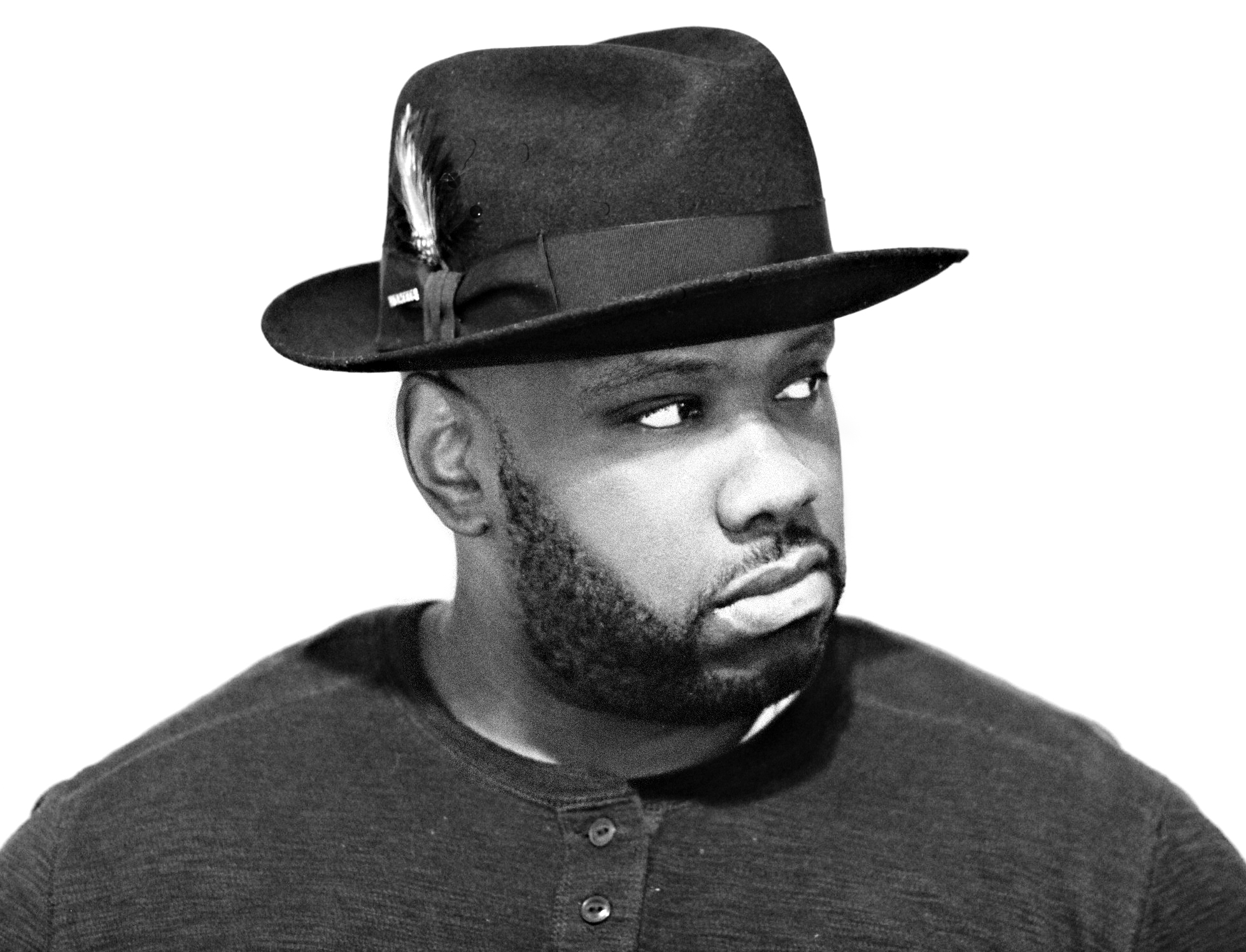 Before you do something for free, think about how it will affect your business.
"Get Paid."
This is something most freelancers or people just building their business often struggle with. Do you offer a service for "free" to build your clientele or get "experience"?
Or, do you charge for your services from the beginning, assigning a monetary value to what you're offering?
A few months ago, I covered the Harlem Fashion Row annual awards ceremony and fashion show during New York Fashion Week. During the after party, I met Dale Lamar aka "The Amazing Dale", a NYC-based visual artist.
Since then, we've been social media pals. If you follow Dale on Instagram, you'll notice some themes: He's really into his artistry and he doesn't play games when it comes to being paid for what he's worth.
Dale's philosophy is that one SHOULD be getting paid. Dale's story is rather interesting. He used to be a "kingpin" but got bored with the lifestyle and decided to try something new. In February 2014, he became a professional photographer, having taught himself how to use his camera from watching YouTube videos. Since February, he's shot almost 423 videos and built his resume shooting weddings, sweet sixteens, fashion shows,  music videos and more.
Here's some things you'll learn by reading on:
How Dale secured his first paying photography client
How his  "ego" has helped advance his career
One thing he thinks is destroying the creative industry
2 sites that you can use to start building your network and build your clientele
The best business advice he's ever received and how it affects his business today
Where Dale sees himself in the next few years (PS- watch out Tyler Perry….)
My biggest takeaway from Dale's interview?
You've got to have confidence. Know that what you are offering is "amazing." You've got to believe you deserve to get paid for others to take you seriously. (CLICK TO TWEET)
"Look in the mirror. Realize who you are and your value. You'll stop that free shit. At the end of the day, you are running around, jumping on trains, carrying equipment…and to do that for free? Hell no." – Dale Lamar
Check out the interview below!
BRANDMAKERS is a series highlighting individuals who are SHINING (aka killing it and raising the bar) in their respective industries. Know someone who should be featured? Contact rana@ranacampbell.com
How'd you become "The Amazing Dale?"
DL: My ex girlfriend  was a model. I used to go to a lot of fashion shows. When I was there, I used to always see the backstage photographers. Everyone gravitated towards them. One time when I was in Los Angeles, I met this famous photographer Richard Prince. He told me that I should get into photography. I had a small point and click camera. He said, "If you want all the girls in the world, you gotta be a photographer. Photographers always get the girls, bro." Ever since then, I've been taking pictures.
You went from being "self-taught" to charging people for your services. How did you make that transition?
DL: I bought a camera and didn't know how to use it. I learned from YouTube. I  just kept taking pictures and playing around with it. One day, my homeboy said he wanted to do a photo shoot. He asked me, "How much are you going to charge me?"
I said, "$600."
He said, "Cool."
The downside was that the studio charged me around $400. I only  made about $150. I started learning about  photography "overhead." After that, I did a wedding, a few baby showers, hip hop videos, and other events. I never looked back.
I did my first video in February. I'm now 423 videos in, (including Instagram videos.)
What do you think has gotten you so much work in such a short amount of time?
DL: I always have to be the best at whatever I do. I have a lot that I have to offer and am always pushing myself.  I'm always trying to do better.I always say my ego holds me back but it also holds me up.
There's a lot of people who don't like working with people with big egos. How would you respond?
DL: There is no such thing as being too confident. At the end of the day, when it comes to doing the job, I put my ego aside and make it happen. If someone is paying me, I don't have an ego.
That's the problem I have with this industry. People want to talk to you crazy but they don't want to pay you. I want to get paid.
That's the problem I have with this industry. People want to talk to you crazy but they don't want to pay you. I want to get paid.
I'm used to making no less than $1,000 a day. I cannot entertain free anything. If it's not beneficial to me, I cannot entertain that. I'm used to getting money. Most of these videographers and photographers aren't.
How did you find paying clients?
DL: I never told people that I was just starting out. You have to network. Go to meetup.com and join a group. You can also go to eventbrite.com and search for networking events. Meet people. Make it happen. Bring your iPad. Show people what you are working with. Keep it moving. Keep them your business cards. Socialize. Get to know people so that they feel confident working and talking with you. That's how business is done.
I'm just now learning how to network in a professional environment. I used to be in the streets. I used to be a Kingpin at one point in my life. I got bored. I said I wanted to try something new. I was more distribution. I wasn't retail. (*laughs*) When you are Bill Gates, you don't have to speak to Target stores. You have someone to talk for you.
What has been a challenge for you as you have grown your business?
DL: Dealing with people that want a lot but have no money. Finding the right clientele is also hard. If I had a great manager that was getting me work every day, that would be great. I could do a wedding every day. I love wearing a suit everyday. I love taking pictures.
I don't want to ease up my schedule, I want more in my schedule.
You call yourself "The Amazing Dale"….what makes you so "amazing"?
DL: My vision.  My visuals. The shots I catch. I capture a moment and I'll make it look amazing, awesome, and great.
What's missing in the photography world?
DL: What's missing in the creative world is creativity. Everyone with a camera claims to be a photographer. Having a camera doesn't make you a photographer. You're just someone taking pictures. There's a lot to photography.
I'm a photographer, a digital artist, and I'm a retoucher. I consider myself a visual artist. I do film, video, painting… all types of art.
Alot of people feel that it's going to take "too long" for them to pursue their dreams. What advice would you give to someone who has a dream of "breaking in" but doesn't know how to go about doing it?
DL: Jump on YouTube and do all the tutorials you can. Get a camera and go out and take photos. Practice on your kids… your girlfriend. Get it together so you can go make some money out there.
If you could back in time, would you do anything differently?
DL: I wouldn't have done anything for free. Everything has a monetary value. Free costs more. I would treat it just like the streets. Nothing comes for free.
 I paid $1700 for my camera. I paid about $3000 for lenses and alot of other miscellaneous stuff. My computer was $1300. Everything costs. I don't care if your budget is $40… I want $40.
 I don't understand people who tell me they don't have a budget. A budget could be $5. You don't have $5 to give?
 If you don't have a budget, we don't have to talk about anything because II'm amazing. You are trying to make me regular.
Has that strategy of making everyone pay you been successful?
DL: Yes and no. It eliminates the bullshitters. I have people who actually have budgets and are rich but they won't pay me because everyone else is doing it for free. I tell them to go get it from the other person then. It's cool. No hard feelings.
Not alot of people have that confidence to be so firm. How can someone practice standing their ground when it comes to pricing and getting paid?
DL: Look in the mirror. Realize who you are and your value. You'll stop that free shit. At the end of the day, you are running around, jumping on trains, carrying equipment…and to do that for free? Hell no.
You've been a businessman for a long time. What's the best piece of business advice you've ever received?
DL: I had this friend who told me, "The reason you don't get paid for what you do is because you don't know what you're doing. You are not monetizing. Once you tell people what your price is, Stick with that and you keep it moving. Don't lower your price. People will respect you more."
Get contracts drawn. Present it to your client. Get them to make a deposit. When you see them on the day of the photoshoot, collect your balance. Then move forward to do something amazing. Hence, the phrase I live by…"Let's do something amazing."
Do any other photographers inspire you?
DL: Nope. I don't know any other photographers. I don't look at other people's work. I get inspired by myself. Kanye West said it best: "I can be by myself and enjoy the company." That's me. I'm a one man show.
What will you do when you get to the level where you can't do everything yourself?
DL: I  don't live in the world of can't. I "can" do that. I can choose not to though. As I grow, I am going to hire other photographers. For now, I'm going to handle that ground work myself.
What are your future plans?
DL: I'm going to the top. I want to play with the wolves. I want big names attached to my names. My goal is not to be a photographer. My goal is to be a media powerhouse!  Photography  is a gateway drug. I want to be on the Tyler Perry, Oprah, or Warren Buffet level.
What are some strategies you've used to help you transition from working for free to getting paying clients? Share in the COMMENTS section.
Connect with Dale:
Site: http://theamazingdale.wix.com/amazingphotography
Portfolio: https://www.flickr.com/photos/divo482/  & http://vimeo.com/105959978
Instagram: @Theamazingdalesworld
Twitter: @ysldale
SHINE MORE. SHINE BETTER. FOR ACCESS TO FREE WEEKLY BRANDING ADVICE AND INSPIRATION, JOIN MY MAILING LIST BY

CLICKING HERE
The following two tabs change content below.
Rana Campbell is the Editor-in-Chief and Founder of Ranacampbell.com, a site dedicated to personal branding and helping people learn how to SHINE in their personal and professional lives.
Latest posts by Rana Campbell (see all)
Tags: brandmakers, business, entrepreneur, photography