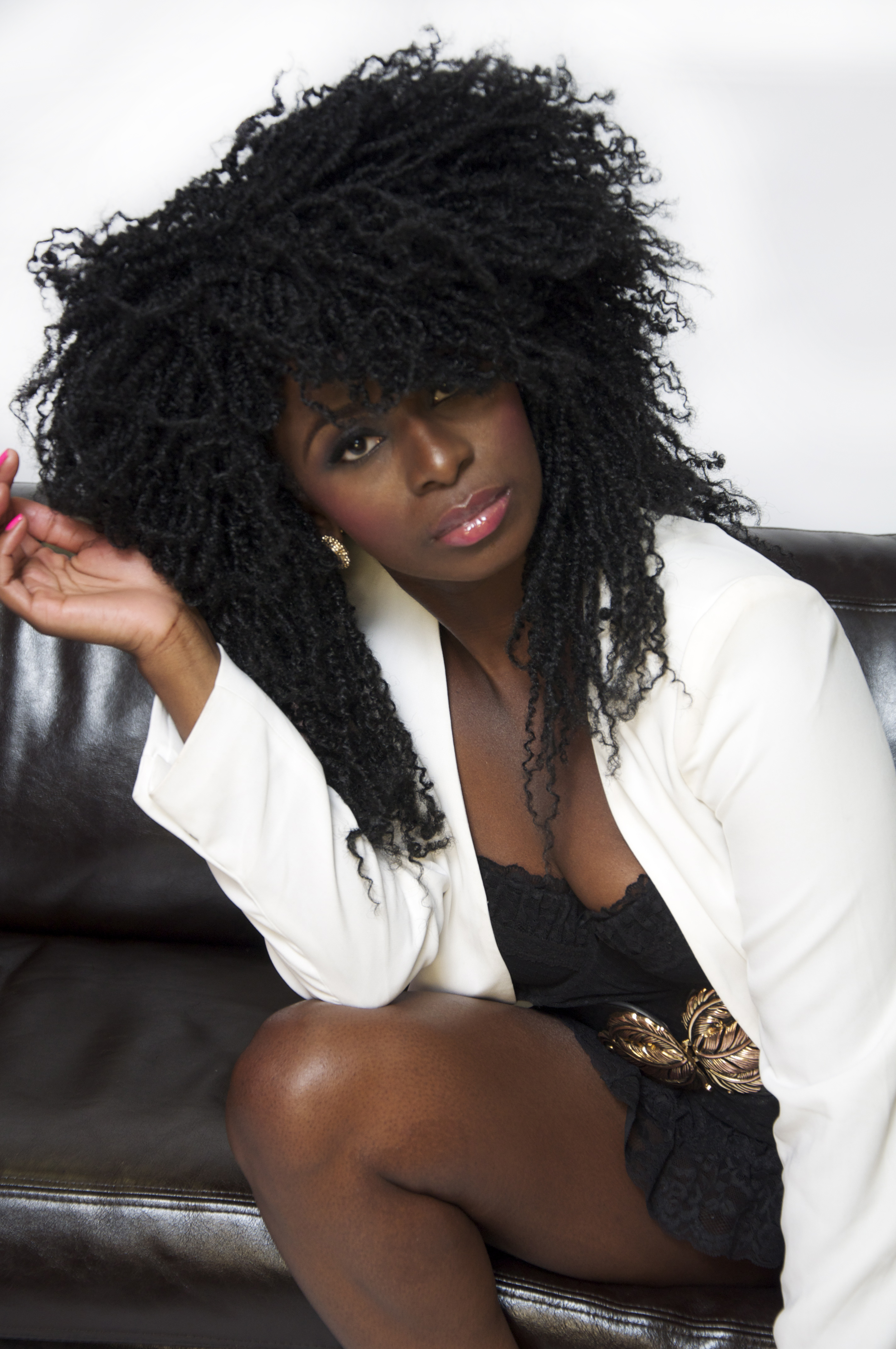 If you want to be a winner, you've got to take your goals to the finish line.
I've been interviewing people for this BRANDMAKERS series for a few months now. One of the most interesting things to me throughout this experience has been talking to people about what it took to build their brand and what "success" means. Everyone has a different story and a unique way to tell it.
Meet Mushiya Tshikuka, the founder of Runway Curls, a natural hair extension line. She also is the founder of The Damn Salon, an Atlanta-based high-fashion full service salon in Atlanta. The Damn Salon (or "movement" as Mushiya) would call it is all about giving women the space to be who they are.
One of the things that I found very inspirational about Mushiya is her confidence and vision. Throughout the interview, I noticed that she spoke with purpose. She knows what she wants and she knows what she has to do get there. She has big dreams for her brand (but also has the PLANS to help her execute and implement her dreams.)
My biggest takeaway?
Check out the interview below!
What inspired you to start Runway Curls?
Mushiya Tshikuka (MT): We created Runways Curls because we wanted a line  of extensions that women can wear that will allow them to match their natural texture. You don't have to press your hair for it  to blend. It goes from curly to kinky to kinkier. The Runway Curls line celebrates the African texture.
Runway Curls is another stepping stone for The Damn Salon. It still represents who we are and our culture. We are against doing permanent things to your own hair that will alter its texture and makes you think you will be more accepted in this world.  The Damn Salon culture is edgy. We say, live, and do how  we want and that's it. Our whole culture is to embrace who we are. Even the names speak to this: "Dirty Girl", "Play Boy", "Moulin Rouge." We're having fun looking gorgeous, looking fun, but being healthy and living life. 
What were some of the first things you had to do to launch Runway Curls?
MT: We had to sample  and create the curl patterns. We made sure they worked and were good.
Photoshoots were also important because people are visual. Photoshoots capture what you are trying to tell someone. You have to have the right woman, the right look, hairstyle, layering, cut, photographer, editing, etc.
All of these are important  in branding. The first picture you release regarding any product or brand is what people are going to associate your brand with. If it's something of low quality, they are going to assume that whatever else you are doing is also of low quality. Don't half-step. Get the best, especially in the beginning.
Are there ways to save money on branding when you are first starting out?
 Some businesses may feel because they don't have a big budget, they can't do quality things. I don't believe in that. I will sit down for a day or two and learn  graphics or how to build a website if I can't afford it. There are so many resources out there. Use them.
At Runway Curls, we are amazing multi-taskers. We don't outsource a lot of things. We learn everything ourselves so that we can do everything. You save a lot of money that way and can put out a product that is still of great quality.
Is it your long-term goal to continue most things in-house?
MT: We want to be able to outsource the fulfillment.
There are certain things we always want to keep in-house. For example, we are just about to release the Runway Curls song. We have producers and singers in-house.
It's great to know that if something is happening right now, we have 3 photographers in-house. We've all learned the art and make sure at the end of the day if we have a  photoshoot and something happens, we always have a backup photographer. Some of The Damn Salon stuff was done by me: photos, makeup, hair. All of our websites were built by myself. All the graphics, I did. Stuff like that I would like to outsource.
However, when you are outsourcing, make sure you use someone who can actually replicate your branding and vision. 
Your branding must remain consistent. It's so important that no matter what the external people we work with know how to do, they are still representing us.
What were some of the challenges you faced early on while growing your business?
MT: My perspective is so driven to what I want and what I need to happen that I actually don't see challenges. They happen every day, but they don't mean anything to me. I don't record them in my brain. It means that I have to turn another way instead. It happens so fast that I don't even realize I went through a complete stumble.
On our very first photoshoot, I had two photographers and a makeup artist (which was also a photographer.) The photographers didn't show. My makeup artist ended up doing the makeup and the photography. I also shot, too.
Part of the business model is that whatever plan I create, I have a backup plan and then a backup plan for the backup plan. If something happens, it's easy for me to fall to the next plan and keep moving towards the direction I need to be in.
What's the hardest part of launching a hair extension line in an already crowded hair market?
MT: I stay focused on making sure that whatever Runway Curls is doing will stand out. I don't really care if there are thousands of other weave lines. There's a reason I don't know all of them. Obviously they are not standing out enough. Everybody is blending into each other. My focus is to focus on branding Runway Curls and creating a group of soldiers who can be brand ambassadors for it. I'm utilizing a lot of different platform and opportunities that we will have in the next few weeks and months that will allow Runway Curls to have international exposure.

What platforms have been really been helpful in spreading the work about Runway Curls?
MT: The common ones are social media and bloggers. We also have a great following from The Damn Salon. We have a team of marketing and public relations that also contribute to the movement. We have a few digital advertisements in Atlanta. We are  in the process of getting 2-3 buses branded with Runway Curls in Atlanta. We are also in the  midst of creating brand ambassador and stylist partnerships which is going to take it to the next level, which is going to give everyone in the world an opportunity to make money by partnering with us.
Define Success.
MT: The difference between successful people and unsuccessful people is implementation.
Everybody has ideas. The unsuccessful person's ideas remain ideas. Their dreams remain dreams. Successful people don't dream. They goal.
The difference between  a goal and a dream is that you turn your ideas into a tasklist. Alot of people have a vision about where they want to  be in 10 years, but they have  no idea what the steps are that they need to take to get there are.
If you want to be somewhere, you need to make a plan.
To be there in 5 years, make a 2 ½ year plan. What's your 1 year plan? To be there in one year, what's your monthly plan? To be there in 1 month, what do you have to do daily? To be there daily, what do you have to do hourly? Now  you have an actual marking point of success. You know when you are backed up or not moving ahead.
You don't just say, "I wish I could." You know what you need to do. You just broke it down. Do it. It's very difficult for people to actually goal and task.  Most people have ideas and dream.
Implementation and creating a tasklist is difficult.
Being able to implement sets one apart. So many people don't implement anything. They just think about what they want to do.  It's finishing the race that makes the difference. Even if you finish 4th, 5th, 6th, or 9th, you still have a place.
There's alot of room for businesses. Yeah, there's 2900 weave lines, but there is a place for every one. There's a market for me and all of them. It's like, "Am I taking this all the way to the finish line?"
I could be 28th and I'll still make it. I'll still be relevant. There is room for alot of special people and alot of business.
How important is networking with like-minded individuals?
MT: It's so important. Not everyone is meant to be a boss. Some people are meant to be the boss's assistant. Everybody wants to be the boss and the CEO. Alot of poeple don't understand that it's better to come together with other like-minded people and own  5% of something humongous than to own 100% of shit. Most people would rather own 100% of shit. It means they can't work with other people, partner up with others, hire other people. That limits themselves.
For example, I know so many stylists who work by themselves because  they cannot hire assistants or other stylists because they are scared to work with them. How much hair can you do by yourself in one day? How can you conquer the world by staying on top of someone's hair? I don't do hair. I  have a bunch of stylists at the salon. I'm busy growing the business. There's only so much success I can achieve by staying doing someone's hair for the rest of my life. You have to  be able to work and partner up with others.
What do you do to relax?
MT: That's probably something that I need to do more of.  I hang out with my husband and the girls, but I'm probably tired and sleepy as I'm doing it. In 2015, I need to find unwinding time. I'm always winded. That's what I need to work on.
My passion is music. One of the things that is peaceful to me: listening to music, being at the studio, writing, or recording. These moments are peaceful to me and bring me back and recharge.
What are your future plans for Runway Curls?
MT: I want everybody to be wearing Runway Curls. I want a team of soldiers as brand ambassadors making money off of Runway Curls. I want to see it on an international level and want to change the perspective of women dramatically by also having Caucasian girls wear and desire big,full, curls. For years,  Black women have been trying to  look like White women. What they don't understand is a lot of Caucasian girls wish they had Black women's hair. Now, I also want to give them the opportunity to actually wear that hair and celebrate curly Kinky hair. So what if White girls are wearing curly hair? Who caress?
What makes you shine?
MT: One of my personal strengths is that I believe in myself and that I can do anything. I believe the only option is to succeed. I don't believe in mistakes. I don't believe in failure. Every mistake is something to be learned from that can be utilized somewhere else. Because of that, I am very difficult to discourage. I am my own encourager. Alot of people wait for the world to courage and push them. If they wait for the world, they find themselves sitting there. I am my pusher. I am my encourager. Nothing and noone can hold me down.
What's one thing you learned from today's BRANDMAKERS? Share your thoughts in the COMMENTS section below!
Connect with Mushiya/Runways Curls online:
Website: http://runwaycurls.com
Instagram: @runwaycurls
TO GET A NEW BRANDMAKERS DELIVERED TO YOUR INBOX EACH WEEK,

CLICK HERE
Tags: branding, entrepreneurship, hair, success