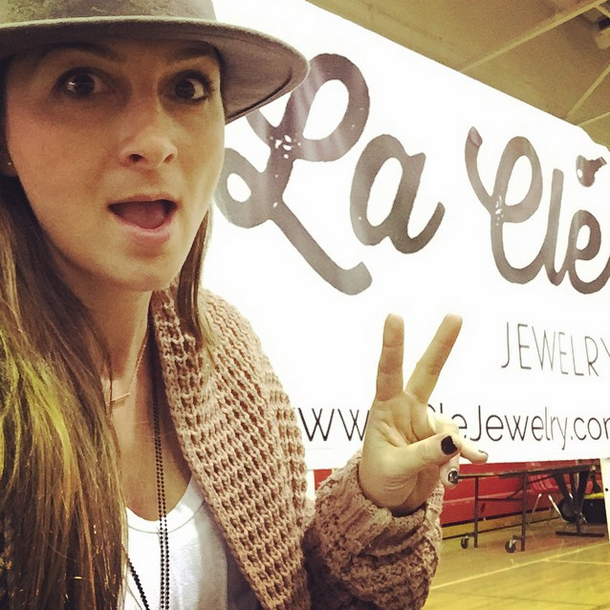 Do you want to start a business but don't think you have what it takes to be an entrepreneur?
Keep reading.
Meet Deanna Saracino, the founder of La Clé Jewelry. (La Clé means "the key" in French).
I've spoken to many entrepreneurs and one of the things that stood out to me about Deanna and her story was her love for learning and the passion she feels for her business. As any entrepreneur can tell you, starting a business is not always fun. For Deanna, her love of creativity and passion for seeing a vision come to fruition have been two of many traits that have allowed her to stay on what can sometimes be an unpredictable entrepreneurial journey.
If you can say YES to more than 3 of the following, this post is for you:
You like taking action
You're super crafty
You don't believe in the word "no." (There's always a way!)
You're motivated by challenges
You gravitate towards (and excel) in leadership positions
You recover quickly
You're extremely passionate about something (and that something popped into your mind as you read this sentence.)
You're constantly thinking of ideas that can result in you starting a business AND making money
In this BRANDMAKERS you'll learn:
Which of the above 8 traits Deanna possesses
What inspired Deanna to make a business out of colored keys
The most challenging aspects of running a key jewelry business
How social media helped Deanna grow her business in just one year
How Deanna manages running La Clé , a vinyl business, and being a soccer coach!
Whether or not  Deanna believes the "entrepreneurship" trait is in everyone …and more
Check out the interview below!
What inspired you to  start La Clé?
Deanna Saracino (DS): La Clé came from a failure, which can be the life of an entrepreneur when you have lots of ideas and are doing different things. I had just got out of a startup that I had really put my heart and soul into. I needed a creative outlet. Having my own brand and challenging myself to produce and create was something I was always interested in.
Having my own brand and challenging myself to produce and create was something I was always interested in.
I've always loved jewelry. I don't wear alot of it, but I really like statement pieces. Keys are something that I wear all the time. I used to wear my  around my neck growing up. I never took it off. This grew into adulthood and became my style.
When I was thinking about creating something, there were a few things I was adamant about. I wanted my brand to stand for being able to give back, do good, and still be cool. I came up with concept of the key. i played around with colors. I sat on it for a couple of months brainstorming and figuring out whether it was good enough. One day it hit me. I put together the mantra: Look Good. Feel Good. Do Good. I also came up with the messaging behind the colors of the key. It all clicked. From there, things fell into place and people were like, "Wow, this is a really good idea!"  Out of all the little businesses that I've had, this has been a whirlwhind. It's one of the only things that I did not plan for. Sometimes that is just how it goes.
This all started because I was exhausted mentally, wanted to focus on something that was my own, and desired to work independently instead of relying on other people. I reworked and tweaked along the way. It's evolved into this little brand that I'm running with.
Do you do everything by yourself?
It's just me right now. I had a few interns that have come in, which has been nice. It's given me some help. I haven't brought in anyone else as of yet. I think towards the end of this year, depending on how things go, that may be the next step. It's a fun challenge to see how big you can create something especially in jewelry.
Were there any challenges you faced early on when building the brand?
Key jewelry is definitely something that a lot of people do. In particular, there are some big guns that have carved their niche. One of the challenges I faced was trying to make my product  stand out and be different than the competitors out there. I didn't want to do the same thing that they were doing. I wanted to be able to have my own spin and take. It was challenging and fun to figure out how everything was going to tie together.
What makes La Clé stand out from its competitors?
I just focus on what I'm doing. I don't get too caught up with what everyone else is doing. Focus on yourself  what makes your brand come to life.
Focus on yourself and what makes your brand come to life. (CLICK TO TWEET)
That's really all you can do because if you get too caught up with everything else, then it takes away your energy and your mind frame of what you are doing for your brand.
How has social media helped you grow your business? 
Social media is amazing. I never learned so much in one year than I did  in 2014, especially when it comes to marketing. You really have to keep up with social media marketing. There's so many innovative ways to get your product or service out there. A large majority of the population does not use it correctly. My website is hosted on Shopify, an e-commerce platform. Their support and their blog is so worthwhile to read. I do a lot of research on my own and figure out different ways to attack the social marketing strategy.  For me, the main thing was finding my target market and introducing my brand to them. I do that a lot with bloggers. I contact them and offer my necklaces in exchange for publicity. I follow different brands, whether it be big chain stores like Forever 21, and try to attract their customers to what I'm doing.
I spend the majority of my time trying to reach the social media audience through Instagram, Twitter, and Tumblr. I don't use automation. I take the time to create conversations. It pays off. I have a list in place and chip away at it every day. It's a process. As tiring as it can be, at the end of the year, I reached those numbers and was happy with that and the following that I created.

What social media marketing tactic has been the most successful for you?
On Instagram, following a different brand and trying to attract those customers has been pretty successful. A lot of people love seeing things visually. I feel like I've created a good following through that. Twitter has been interesting because you can set up a service called JustUnfollow. If you pay for the service, when someone follows you, it will send them an automated message that is not watermarked.  I try to start a conversation with that. That's a trick I learned through a blog. I get so much interaction from that. I start by asking, "What's your color?" I get these long thread conversations where people are asking me about the brand, their favorite colors, and what colors mean. At the end of the conversation, I offer them a discount and they are so excited to be talking to a real person. A lot of those conversations have converted to sales.
A lot of those conversations have converted to sales.
It's time consuming but I try to be diligent on doing it on a daily basis.
Are there any other tools or resources that have helped you grow your business?
I use App Sumo. I've been following Noah Kagan for many years. Everything that I put out there in some capacity has helped me. He's a huge mentor to me. They have lots of free and paid apps that are great for any entrepreneur and business owner.  Studio App has been great for editing photos.
If you could go back in time to when you first launched La Clé , would you do anything differently?
Probably not. Things weren't really planned. Things just happened. I was a rookie and very naïve when it came to the market I was learning in. It was a good experience and I learned quickly. Everyone needs that learning curve to be able to evolve. I haven't had any major setbacks. So far, so good.  It's been a fun process.
Do you think everyone has the "entrepreneurship" trait?
Everyone has the ability to do anything. Weaknesses or strengths  that are magnified in one's life (or whatever environment they have grown up in or are in at the moment) can help or hinder their path. Everyone possesses the ability to be an entrepreneur. It's just a matter of really being in tune with who you are and what you can accomplish. You have to know yourself, what you like or dislike, and what kind of energy you want to have in your life.
There are a lot of people who are not  in tune with those feelings on a day to day basis. A lot of people are just going to work and not really thinking about the grind every day. They have no clue whether they even like their job. They just do it because they are getting a paycheck. Some entrepreneurs are starting all these companies just because they are trying to make a quick dollar and are not doing it for the right reasons. Balance is everything. You have to be in tuned with knowing what you like and  don't like and figuring out how to incorporate those things in your life on a daily basis. Find that balance and energy. 
How do you manager running La Clé and another business?
I run another company called Standard Vinyl. We're a vinyl broker. We deal with labels and musicians who want to press their records. We make it happen for them. I consider everything I do full-time. I work on this every chance I get. I'm up late hours. The great thing is that it's a lot of fun for me.  I never really get tired of it. I'm constantly thinking of how to make things better. I also have a background in soccer. I coach a lot. I'm ready to spread my wings and spread my wings into other creative outlets. Between the soccer and the music, I'm constantly juggling different clients.Sometimes I'll cover shows and do different concerts and do reviews. That can get pretty busy.
Is working on two totally different companies rewarding?
They are both directly related to passions of mine.  I feel fortunate to be able to spend my hours and days being able to juggle many of my different passions. For a long time, soccer was 24/7. Eventually, I stopped playing and starting coaching.  Then the music came in as an opportunity and I have taken that. Never do I go to bed at night exhausted or nervous about what is to come for the next day. It's a lot of fun and I have fun doing it. I take pride and feel really fortunate.
What advice would you give to someone who is scared to go out and pursue their passion?
You have to take risks.  You can't sit around all day and worry about the outcome. You have to step up to the plate and get things done.  For me, that's my personality. The vision of an entrepreneur is very hands-on. A lot of people are scared of failure. Failure is the best thing in the world.
A lot of people are scared of failure. Failure is the best thing in the world.  You gain experience by things not working out.
You gain experience by things not working out.  Doors open because of that. You have to be willing to fail in order to succeed.
You have to be willing to fail in order to succeed. (CLICK TO TWEET)
For me, it' s fun. If I mess up and something happens where I have to change my direction, it helps me stay on my toes and navigate through life and my business.
What makes you shine? (What are some of your personal strengths that have helped your businesses?)
I like making things happen. I like having tasks and completing them. I get a good feeling when things are accomplished.  Whatever the case is, I like having a vision and making it come to fruition. That's a high for me.  It's the highlight of my day when I am able to say, "I started the day with nothing and ended with this." You constantly have to have goals and little markers throughout your day to keep that motivation high.
Do you have what it takes to be an entrepreneur? Share your thoughts about Deanna's story in the COMMENTS section below!
Connect with Deanna/ La Clé  online:
Website: www.LaCleJewelry.com
Facebook: www.facebook.com/laclejewelry
Twitter:  @laclejewelry
Instagram:  @laclejewelry
Linkedin:www.linkedin.com/pub/deanna-saracino/8/847/3ba/
Pinterest: www.pinterest.com/laclejewelry
Tumblr: www.tumblr.com/laclejewelry
TO GET A NEW BRANDMAKERS DELIVERED TO YOUR EMAIL EACH WEEK,

CLICK HERE
The following two tabs change content below.
Rana Campbell is the Editor-in-Chief and Founder of Ranacampbell.com, a site dedicated to personal branding and helping people learn how to SHINE in their personal and professional lives.
Latest posts by Rana Campbell (see all)
Tags: branding, business, entrepreneurship, inspiration, jewelry