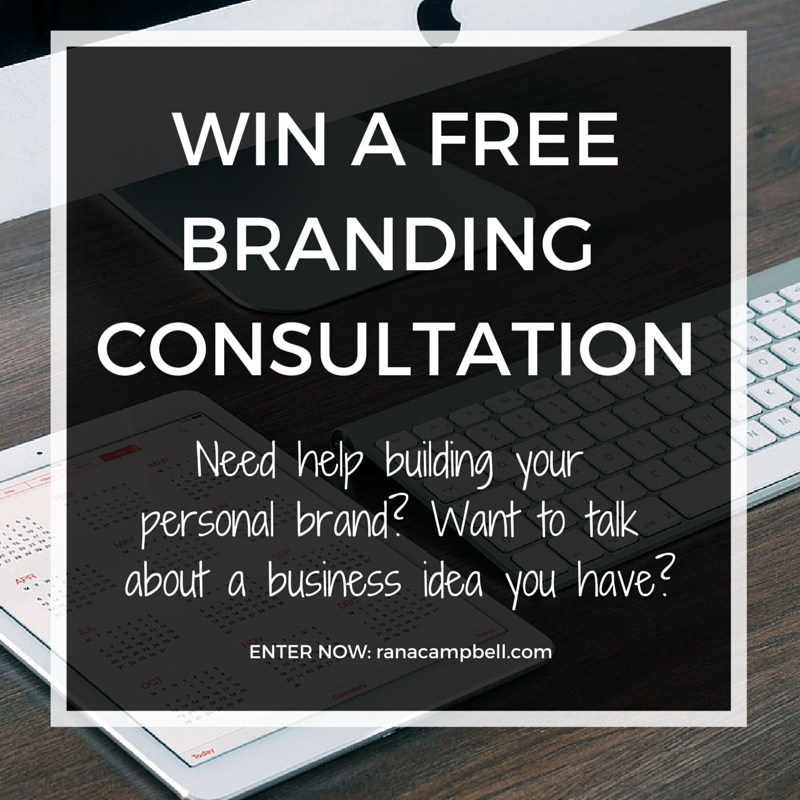 Hey there!
Need help building your personal brand? Want to talk over a business idea you have been dreaming about but have NO idea where to start? Want to talk to someone about you can start accomplishing your personal and professional goals?
Guess what? I'm giving away a free one hour branding consultation to TWO lucky winners. These branding consultations can be done over the phone or via video conferencing, so please make sure you have access to either if you decide to enter.
PLEASE: Only enter if you really have idea that you want to discuss and are SERIOUS about taking the steps needed to accomplish your goal.
How I'll choose the winner:
On April 26th (the day after the contest ends), I'll choose one person who I think have given really awesome heartfelt answers to the question. I know this will be hard, so make it count! The other winner will be someone who I choose at random.
Here's what I can promise that you'll get out of talking to me for one full hour:
– A clearer sense of what your personal brand is + how to start improving your branding persona
– Actionable steps that you can start implementing to start seeing results in your business/plan
– A list of recommended resources, blogs, books, and tools that will be helpful as you embark on your journey to success
– A sense of direction, motivation, and encouragement to continue to seek greatness in your life
Check out what one happy client said about her branding consultation:
My branding consultation with Rana  was extremely useful! It's great to bounce ideas off of someone who listens intently, asks relevant questions and provides feedback. It felt more like talking to a friend than someone I'd never met, and that's a tribute to Rana's ability to make me feel comfortable. Rana was extremely prompt and professional with her response. She knows her strengths and has a sincere desire to help people. I can't wait to see where her journey takes her and hopefully our paths cross again!

– Torri Oats, Filmmaker
The contest is now closed! Thank you to everyone who entered.
The following two tabs change content below.
Rana Campbell is the Editor-in-Chief and Founder of Ranacampbell.com, a site dedicated to personal branding and helping people learn how to SHINE in their personal and professional lives.
Latest posts by Rana Campbell (see all)
Tags: branding, business, consultation, contest