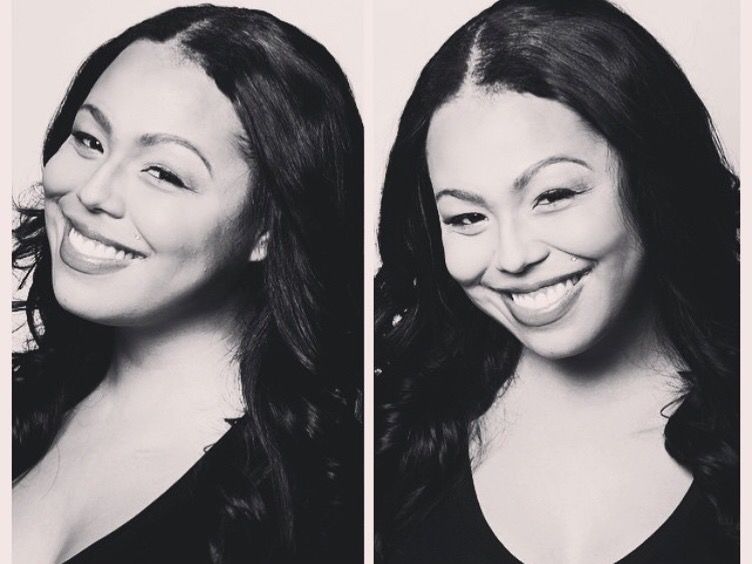 Bad Girls Club Star Judi Jackson Shares What's Next in This New Chapter of Her Life
I've always wondered what it's like to be on reality television.
Does it get annoying to have cameras following you around? What's real? What's not real?
Better yet, how much of YOU do you really get to be? (Because let's face it, television is still television and many times the 'character' you portray" may really not be who you REALLY are. )
My biggest interest, however, relates to branding. What happens when you want to move on? How do you reinvent yourself beyond the typecast of "reality TV star?"
Recently, I chatted with Judi Jackson, a former cast member on Oxygen's Bad Girls Club. I was really interested in getting some of these questions answered.
In today's BRANDMAKERS Judi discusses:
How her childhood influenced her present career choices
How she ended up on the Bad Girls Club
Why You Shouldn't Always Believe Everything You see on Reality TV
Why launching a lipstick line & fiction book made sense for her brand
How she's breaking out of her previous "reality tv" mold
How you can use your previous branding to position and set your new brand up for success
The area of her life that she's personally working on to be better
Advice she'd give to someone scared to pursue their dreams
My biggest takeaway? No matter what your past may have been, if you're committed to changing and discovering a new future for yourself, anything is possible.
Check out the interview below!
What was your dream career as a child?
I was an only child and my mother filmed everything I did…from playing the piano, piano recitals, ballet recitals…jazz/tap class.  I always knew that I wanted to entertain. I didn't have siblings so I learned to entertain myself. That's where a lot of my sense of humor comes from. I always knew I wanted to do something in the arts, whether it's dancing, music, or being in front of the camera.
Growing up, I started playing sports, but it was in my senior year of high school when I was on the newspaper staff was it that I realized I also wanted to be behind the camera writing and producing. I was really good at it and enjoyed it. That led me into going to Columbia College in Chicago for broadcast journalism, radio, and television. From there, the Bad Girls Club fell in my lap. It was fate.
How did you end up on the Bad Girls Club?
Oxygen wasn't a channel that was available to everyone. I didn't know what Bad Girls Club was at all. I went over to one of my friend's houses and she told me about the show and said I needed to be on it. She said every time she watched it, it reminded her of something I would do.
She turned it on. At the time, it was season five Miami. When I was watching, I thought "These girls are crazy. They haven't even seen crazy yet. If I ever went on the show, I would definitely do that." She said that there was an open casting call coming to Chicago in a few weeks and that we should go.
We went and there were 2,000 girls. I thought, "We're never going to make this show. This is crazy." Ironically, I kept getting through every round. I got the manila folder to send in my tape. Before I knew it, I was on a plane to Los Angeles. It was a life-changing experience I'll never forget.
How has being on Bad Girls Club shaped you as a person?
I was always a party girl. My mom let me throw crazy parties in high school. In college, that's when I started drinking. My party girl turned up all the way. When I first went on Bad Girls Club at the age of twenty-one. I was super happy. It was the time of my life.
After the show went on, I started to see maturity within myself. The producers saw it as well and told me they loved the woman I was becoming. Even though they portray us in certain ways, we have to remember it's made for entertainment. I have grown up a lot.
In real life I have to remember that I can't always be that character that I am on television. Being bad girl Judi has gotten me in a lot of trouble. Every time I get in trouble, it makes me realize that I have to watch what I do because people are watching. I don't want to be a party girl for all of my life.
There was once a time in my life where you couldn't tell me to sit down and stay in the house and not go to the club. Going through the show and certain experiences made me realize I don't want to be that girl forever. I thought I wanted it forever, but you have to grow up sometimes.
What's something you learned about the entertainment industry?
Everything is manipulated. There's a reason for everything that happens. Everything is constructed. Never think that there's not a bigger mastermind behind what's going on. Everything is planned out way in advanced.
Being on television, people only see what they show. There's so much more footage and extra stuff that goes on behind the scenes. Now when watching reality shows I'm like, "That probably didn't happen like that." Reality television is NOT real.
What made you decide to start your own lipstick line? 
On season 7, I bought a life-sized voodoo doll. I made it a whole character and brought life to it. From then, everyone wanted my voodoo doll. I also was part of this epic fight where I threw milk and cereal on this girl while she was sleeping. I ended up getting beat up. I own it. When she busted my lip, it was so bad that I had to start wearing red lipstick over it to cover it up. It ended up being part of my trademark.
Everybody loved how I did my winged eyeliner with the red lips, voodoo doll, and the purse that I always carried around. As soon as I got off the first show, I told my manager I want to do all these things.
I started off with t-shirts. I released my first color of lipstick in 2013.  I started making more lipstick colors. I have a color called Mermaid because I'm a Pisces. One of my red lipsticks is called Redbone. A black lipstick is called Voodoo. A purple lipstick is called Lady Marmalade.
I released voodoo dolls last year. Everything that has to do with my brand has to do with something that I've presented on the show.
What were some of the challenges you faced when you were first building your product line?
One of the hardest things to do was to be taken seriously. I had to break out of the character from television. They see you on the show acting a mess, but you have to remind [the audience] that it is a television show and I am to be taken seriously. Just because I am funny on television doesn't mean my life is a joke. I had to separate Judi from Bad Girls Club from Judi as an entrepreneur.
How did you promote your products and start selling?
I had a huge stepping-stone from being on television. I have a huge following on social media. I know what my fans love about me from the show. It was easy to take that and give them a piece of me. Not only will I be in their living room every Tuesday, but they will actually be able to have something in their house and everyday life that is apart of me. It was easy to turn and flip it into an entrepreneurial journey.
What have been some of your greatest successes?
In 2012, I walked the red carpet for the BET Awards behind Tiny, T.I, Grand Hustle, OMG Girlz. I'll never forget hearing everyone scream their name. Then all of a sudden, I heard everyone screaming my name. It was really surreal.
I just wrote my first book. I didn't go the route that most reality stars go. They go the tell-all route and talk about who they had sex with in the industry.
Instead, I took the more creative path because I am really good at writing. I wrote a fiction book about two girls growing up in the south and dedicated it to my mom and dad. My dad passed away on Christmas day in 2014. Two months later, my mom lost her battle to lung cancer. It's been really hard. I wanted to do something to give back to people. I remember seeing my mom struggle.
It's a love story and thriller. It has my mom's recipes, my own poems, and even voodoo spells.  All of the proceeds are going straight to lung cancer awareness.
I also have a charity that helps with sickle cell. I've done a lot more good girl stuff than bad girl stuff.
What was it like writing a book?
It was a release of stress for me. It allowed me to get out a lot of thoughts and feelings. In the book, I used a lot of imagery from my childhood growing up in Louisiana as a Creole girl. It felt good to be able to write all these memories but at the same time use my imagination and create something so great.
What's something that you are personally working on?
My mother said that my biggest downfall will always be my mouth. Sometimes being the bigger person means shutting up and not saying anything. You don't always have to make a point. You don't always have to win.There's a time and place for everything.
Everyone doesn't have to know your business. You don't have to put everything out on social media. Keep some things private. In age where everyone's in everyone's business all the time, you sometimes forget to have a private life. That's what I'm learning.
What makes you shine?
My humor. On a show like Bad Girls Club, which is such a ratchet show… I bring the comic relief. I make it enjoyable and not just hard to watch.
I'm also very relatable. I cry on television. Everyone has seen my struggles. I was an underdog on every season. People have seen me get bullied, stand up for myself, angry, and happy. With the recent passing of my two parents (which was on social media), I feel like my audience can relate to me. I've also beat two cancerous tumors. I've opened up about that, my hair loss, strengths, and weaknesses. That makes me relatable to the everyday person. It's okay to cry. You don't always have to be a tough person.
What advice would you give to someone who is scared to go out there and pursue their dreams?
You just need to do it. Life doesn't last forever. Everyone is going to pass away. Why not create something to leave on this earth even after you're gone? The greatest successes come with failure.
You have to fall down eight times and get up nine. Be positive with yourself. Rome wasn't built in a day. The ideas you have, love, and find dear to you… somebody else will as well. You will be shocked how many people feel just like you and love the same things that you do. Take the moment and seize it because life is short. 
What's something you're personally working on? Share your own story of growth in the COMMENTS section below.You never know who you may inspire!
Connect with Judi Online:
TO GET A NEW BRANDMAKERS IN YOUR INBOX EACH WEEK, 

CLICK HERE
The following two tabs change content below.
Rana Campbell is the Editor-in-Chief and Founder of Ranacampbell.com, a site dedicated to personal branding and helping people learn how to SHINE in their personal and professional lives.
Latest posts by Rana Campbell (see all)
Tags: branding, business, entrepreneurship, reality tv