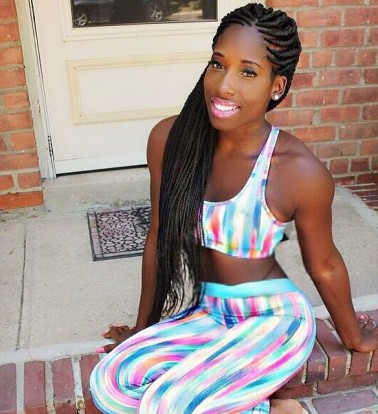 Meet Brittne Jackson,  New Jersey Native and founder of the popular fitness Instagram account as Brittne Babe. Over the past two years, Brittne Jackson, has grown her platform from one that offered free workout tips and documented her personal fitness transformation to a growing online fitness coaching business where she has assists clients with meal planning and fitness training.
I chatted with Brittne about her entry into the fitness world, business challenges and successes, how others can get into the industry, and her future goals. (PS – This post originally appeared on MadameNoire. You can read it here.)
I loved talking to Brittne because I think she is a perfect example of what it means to find your passion and learn how to profit from it.
Here's some things you can learn in today's BRANDMAKERS: 
How to turn your "passion into profit"
How you can use Instagram to grow her business
Challenges of breaking into an industry when you don't fit the "norm"
How helping people transform their lives can motivate you to keep going
What inspired you to start online fitness coaching?

When I started two years ago, I was 18 going on 19.  I was a freshman and put on a lot of weight. I wasn't huge, but I wasn't as slim as I used to be. At that point, I reached out for help but it didn't work out well. I figured out how to do everything on my own. I researched everything and took classes while at school.
I started to put my social media to good use documenting my journey. People were asking me for help [so] I made an email account and helped people daily for free by giving out meal plans, video guides, recipes, and tips. I stayed up all night. My mom was like, "What's going on here?" She told me that I can't do everything that I'm good at for free. That's when I began to [build my business.] My mom helped me a lot. She had to leave her job because I didn't know what I was doing.
Instagram was a big driver of your business growth. How can others build their following and customer base?

When you think of Instagram, you think of things that are visually pleasing. Before I was in fitness, a lot of my photos were of fashion. I got about 40,000 followers in a year based off that. When I transitioned into fitness, I kept it bright. It was more about fitness and helping others. That's what attracted the crowd.
If you want to grow your following, be yourself. You can't look at my page and say you are going to do everything that Brittne does. Your social should be a combination of everything you have to offer. Show off workouts, your progress, and others that you've helped.
Do your best to network within the fitness industry with people who have similar followings. Share with them. Get some of their followers who may not be consumers but may be looking for something that you have. I built my following  based off sharing with other fitness accounts. I asked everyone. A lot of people will say no. Others will want to charge you. Some people do pay to get featured, which is fine. You would consider that using a marketing budget. My mom and I market through social networking. We have a small budget set aside for fliers. For the most part, everything is through social networking, our website, and word of mouth. If you have the money put aside and don't have a big following, then you should invest in features.
MN: What were some of the challenges you faced when building your business?
BJ: One of the challenges was just trying to break into the fitness industry being an African American, a teenager, healthy, and athletic. It's weird to certain people. The main features are usually the White chick, slim with abs, big legs, a nice butt… "sexual fitness porn" as I like to call it. I was none of that.  I had a huge male following prior because of the fashion Instagram I had. The girls who followed me were into the same type of things. It was hard for the Black community to accept it at first. It was also hard for the fitness Instagram society to accept me. They wouldn't do shares with me. It was unheard of for a Black girl to get into the fitness industry.
I've gotten a whole lot more respect within the fitness industry. They understand that this is not just a phase that I'm going through. My followers are very diverse now. In the fitness industry, everyone's like "I'm better. I train better. I work harder. You have more followers. That's not fair." I don't work too well with senior fitness people.
 I wouldn't say there are too many challenges now. My mom and I have a really tight grip on the business. I'm in school, which is the focus. She left a really good job to do this, because this was a direction we both wanted to go into.
Two weeks ago, HoodVines, which has close to 1 million followers, wanted to do a share with me. My mom told me that is not the attention that I want. If I go on to those type of sites to get featured, there's so much disrespect. I'm looked at as if I'm a freak as opposed to I'm taking care of myself. I'm healthy. I take care of myself. I make good food choices. I know the importance of taking care of my body. I feel like in the African-American community that is frowned upon. I think people want to do it, but think of it as unrealistic or unachievable and hate it instead.
I'm trying to do more. My programs used to be at a higher rate, now I'm  trying to do it alot lower so that more people can be introduced to it to see that it's not that hard. All it takes is a little discipline, consistency, and commitment. Little changes turn into big changes. That's what I'm trying to introduce to broaden my market.
How did you build relationships with others in the fitness industry?
 I asked everyone. I am not afraid of hearing the word, "no." Alot of people will say no. Others will want to charge you. Some people do pay to get featured, which is fine. You would consider that a marketing budget.We'd want all the money for Brittne Babe Fitness to go to Brittne Babe fitness if it could. My mom and I market through social networking. We do have a small budget set aside for fliers. For the most part, everything is through social networking, our website, and word of mouth. If you have the money put aside and don't have a big following, then you should invest in features.
What are some of the services you offer?
I've been doing meal plan and online training since I started. My meal plan program is based around a healthy balance of all food groups. I calculate how much a person should have based on their height, weight, and level of activity. It's all about portion control. We have weekly check-ins. I give them tips.
I also have online training, where I send them training routines they can do. As they progress through the program, I add more based on how they do. I started to introduce workout video guides. Nutrition is where it starts. A lot of people want to know about good exercises for back fat, how to build a butt, etc. Everything is about nutrition: how much protein, carbs, and fat you are getting with exercise.
How have you been able to help transform people's lives?
I've helped thousands of people at this point. I get clients all the time and the programs usually last for four weeks. I had this one woman who has been my client since I began. She just recently started doing things on her own. She just wanted to lose ten pounds like everyone else. Alot of us don't really need to lose ten pounds. You just need to change the way you eat. As soon as you do that, all of that belly fat is going to go. She pretty much took everything that I said and applied it. She had bad and good days. The check-ins are vital.  I'd look at her plan and her photos and change certain things. If she wanted to look a certain way, I'd recommend different routines. Her end-result is that she has kept the ten pounds off for close to a year now. She just turned 40 years old. She was really proud of herself. I just met her at my last bootcamp. She won my pushup contest. She came from being overweight to getting to her ideal weight and changing her lifestyle.
How have you developed as a businesswoman since you started two years ago?
I'm definitely still growing. I'm 21, live at home, and commute to college every day. It's pretty tough. This business has made me more organized and focused on my goals and what I want out of life. It's made me better at school. My studies used to suffer. At this point, I'm only seeing myself getting better. 
What tips would you give to a women trying to  break into the online fitness world?
Don't get butt naked on Instagram. You don't have to take pictures in your panties. You don't have to concentrate on butt workouts. Have personality. Be yourself. Training is not just about how many push ups you can do. Don't be rude. Be sensitive and positive.
What keeps you going?

This is both me and my mom's lifestyle. This isn't something that I do part-time. This is how we eat every day. We go to the gym. We meal plan. We like doing that. It's not a punishment. I like going on Instagram and taking pictures. We like teaching our friends and talking to them about fitness. We like people asking us if we're sisters. We do this full-time meaning from when we wake up until we go to bed. We spend our entire day putting together different ideas, workouts, programs, and videos.
Share this story:
What did you think of Brittne's journey? Share your thoughts in the COMMENTS below!
TO GET A NEW BRANDMAKERS IN YOUR INBOX EACH WEEK, 

CLICK HERE
The following two tabs change content below.
Rana Campbell is the Editor-in-Chief and Founder of Ranacampbell.com, a site dedicated to personal branding and helping people learn how to SHINE in their personal and professional lives.
Latest posts by Rana Campbell (see all)
Tags: business, entrepreneurship, fitness, marketing, social media