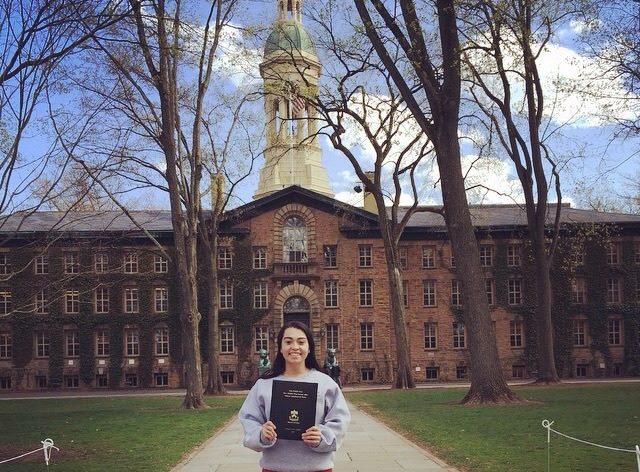 "Sometimes I feel like I'm still faking it."
I am a college graduate. I am a college graduate. Okay, that's still weird to read, write, AND say out loud. I know that I graduated college.  I have held my degree and even framed it! For some reason, it just still does not feel like I have graduated college.
Lots of literature on female empowerment in business, politics, and other realms talk about how women live by the adage "Fake it 'til you make it." The real problem is that even when women make it they still feel like they're "faking it."
The result is that women who are amply qualified often turn down opportunities they would otherwise make great candidates for because they don't feel qualified enough.
I studied politics in college. I read about this a thousand times and promised myself that I would never be one of those women who let their gender hold them back.
I made a point of raising my hand in classes even when I knew my opinion would be unpopular or if I wasn't one hundred percent sure that my answer was right.
I negotiated my first salary.
I took classes where I was outnumbered 9-to-1 by men and refused to let that stifle my voice.
I attended events where male peers attempted to have conversations right over me. I demanded to be acknowledged.
I have spent time educating myself on how to engage men in creating more equal gender dynamics. I have read more on the politics of gender than on any other topic. I even wrote my senior thesis in college on how gender composition in social settings can affect engagement for women.
So why can't I shake this feeling?
Despite handing in my thesis and being handed a diploma, why do I still fear that the University is going to call me and tell me to bring it back?
The fact of the matter is this: I don't know.
I mean, I did do it. I fulfilled my graduation requirements. In fact, I even took more courses than I needed to!
If I went above and beyond in the requirements, doesn't that make it ridiculous that I can't shake this feeling?
Why, yes. Yes, it does.
However, that doesn't mean these feelings are invalid. It just means that despite being cognizant of it all these feelings can still creep up.
I'm working really hard to not feel like this anymore. The last thing I want is for this doubt to be something that keeps me from reaching my potential and performing at my best. Nonetheless, it seems like a constant reminder of how I still have so much to do, not only for myself but for all women.
I take this doubt and am using it as motivation. It's my fuel to do more, to do better, to work harder.
How do you deal with the sense that you're 'faking it'? COMMENT below. Let's get this conversation started!
If you like this post, why stop here? Follow Emilie on Bloglovin or  subscribe to her blog here.
The following two tabs change content below.
Emilie Burke
This post is written by Emilie from the Burke Does team, a life and style community pushing you to help live a beautiful, happy, hand-made-with-love life. On the blog, they write about creativity, health and wellness, fitness, cooking, and planning and organization.
Latest posts by Emilie Burke (see all)
Tags: career, college, college advice, life, success tips