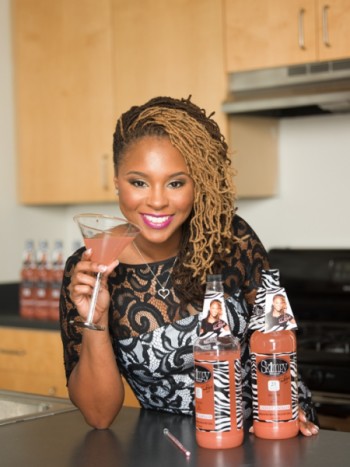 Successful business woman. Successful actress. Phenomenal mother. These are the words that Torrei Hart told me that, years from now, she wanted people to remember her for.
Though she will forever be linked to her famed ex-husband, Kevin Hart, Torrei has successfully built her own entertainment empire and has even expanded into retail, with her own line of cocktail mixers launching at Walmart and Burlington Coat Factories nationwide. Her hustle is ever-present, but her determination is what truly impresses me.
I reached out to chat with Torrei because her story is one that I think many may resonate with. How does one get out of the shadows and define her own brand seperate of a brand that so many people know? In my eyes, Torrei Hart is am inspiring example of what it means to really carve your own path on a road that others have tried to carve for you.
She says it perfectly: "When I got out of that situation, it's like I didn't have to play the background [anymore]. I could actually do what I wanted to do."
In today's BRANDMAKERS you'll learn:
How Torrei knew that entertainment was her calling
How Torrei was able to bounce back from a public divorce and focus on building her brand and career
Ways to use digital media to leverage your following and monetize your business
Why Torrei believes Black women need to consider to support one another
What Torrei defines as the "key to success."
The best advice she received from Michelle Obama about brand building…and more
Check out the interview below!
How did you know that you wanted to pursue a career in entertainment?

I've known since I was the age of six. I would tell my mom and dad that I was going to move out to Hollywood and be on TV. From that moment on, my mom would put me into plays and have me doing things around the neighborhood.
I studied theater, arts, and drama since high school. I was always pushing forward with it. It's always something that has been part of me.

As far as getting into the business, I didn't have a clue. It just so happened that me and Kevin met in college. I ended up on his comedy path.
I am still "breaking in" to the industry. You're always working harder to get the next level and not knowing how it is going to happen. For example, I never knew that I would have a mixer. You never know what God has in your path.
You've mentioned when you were with Kevin Hart, you put your own career on hold. Now that you're building your own career, what are some challenges you face?
Stepping outside of his shadow. The main thing is overcoming people thinking that they know who I am or what I was doing. They have no clue as to the things that I have done. I have had several national commercials. I've had a few movie roles. I've always been a business woman. I've always been a hustler.
I've always been there for him, telling him certain moves to make and always playing the background. When I got out of that situation, it's like I didn't have to play the background. I could actually do what I wanted to do.


How has knowing the industry and how it works behind the scenes helped you make strategic moves in your own career?
People can't take advantage of me. When I hear certain things, I'm like that ain't what this is. That's never going to work. Let's not waste our time.
I appreciate  being able to be apart of that journey. I learned a lot from the position that I did play. It's helping me with my career right now. There was a plethora of knowledge that I was given. It was like, "Thank you God. I see you working. You had me in this position for a reason."
What inspired you to launch your own production company?
Out in the industry, women have it hard. Women of color have it the hardest. There aren't too many doors that are being opened for women of color. Since the success of Empire, there are a lot of shows pertaining to the African-American society that are being bought from networks. That's starting to open doors. There are going to be a lot more African-American actresses on TV.
It's really hard for women of color, especially in the comedy realm. It's like that boy's club. I decided to do something that was all female doing sketches and comedy. We bring on other females to be part of our little circle and help women get their creativity out and not feeling stifled. That's how that came along.
I pretty much do my sketch movement on Instagram. That has helped pop up a whole bunch of digital media entities. I am getting paid to produce content. With the followship that I have, I am able to advertise and do my sketches which goes over to another platform where I get paid per minute for my content.
It's a way to do what you love and get paid for it in the digital media world until you get your big break for tv, movies, or theater. I love it because I am able to stay creative and do what I love. I'm getting my thoughts and ideas out there.
Why is it important for Black women to continue to be creative, build their own businesses and support their community?
We've been put down so much to where it's like, "Can we even get support from our brothers?" With me, I have to show my daughter that you can do anything in this world and life that you want to do as long as you put in the work.
My personal mission and journey is to be successful. That drive has been in me since I was a little kid. Once  I had my daughter, I really had the drive to show her that you don't have to conform to what society says. They call us bitter, angry Black women, and call us names, trying to make us a stereotype.
No. Look at the Oprahs of the world. Look at how she's made it. Look at the Wendy Williams out there being a pioneer doing what she does in her sector. There is so many amazing Black women.
When you're determined to be successful, the opportunities are endless. It's all about your thought process. If you want it, you can obtain it.
You were able to have dinner with Michelle Obama. What was the best insight you gained from her?
Nobody is going to save you. You have to go out there and make it on your own. That hit hard for me because sometimes it's like nobody wants to help. Everybody is all for their self.
When she said that, it was like I get you. Thank you God for the reiteration. You do have to go out there and pave the pavement. Even I have a manager, but I don't wait on him. I still go out and do everything. I film my own sketches. I set up my own meetings with my crew to get things done. I do everything on my own. When it comes to Skimpy Mixers, he does help me a lot with that.
When it comes to the entertainment, I'm always still on the lookout, looking up auditions and the latest projects going on. You have to be a go-getter in this business.

Was there every a time when you wanted to give up?
When I was going through my divorce, I wanted to give up. I wanted to go hibernate. I didn't want to talk or see anybody. I was in a rut. Going through that, I started seeking God heavy. I prayed for an hour a day and read The Word to build myself back up. I felt like my life was over as I knew it. I realized it was just a temporary moment in the grand scheme of things.
I didn't see a therapist or a counselor or anything. I got a lot of self-help books. I read a lot of  Joel Osteen, Joyce Meyer, TD Jakes… mainly the Bible and praying and seeking God, asking him the questions that I had would lead and guide me to the way to get answers.
When I would feel like I would give up, he would always send an angel. Whether it be a friend, family member, or stranger on the street who would just uplift me and give me words of encouragement. It's all about the will to want it. It's okay if you have those moments of weaknesses saying you can't. It's you who determines if you're going to stay in that space or are going to get out of that space.
I chose to get out of that space and stop feeling sorry for myself. I chose to press forward and not become the victim.
Do you have a daily routine that helps you stay on track?
I try (at least 5-6 times out of the week) to do my daily affirmations. I look in the mirror and say something positive to myself every morning.  I pray with my children and read The Word. That's what I do to  get me going. I try to work out as much as I can because I know when I workout, it motivates me and gets me going.
What's the best business advice you've received that has helped you advance your career?
Never give up. Easy comes, easy goes. If you get it quickly and fast, it can go fast. Remember, it's a journey. It's not about how fast you get it. It's about longevity once you get it.
You see these people who are popping up and you're like where did they come from? How did they get the cash? Continue to work hard and so something every day pertaining to what you want to do. Don't give up. Something positive and great will happen. Dreams can come true but you've got to put that work in.
[Tweet "Dreams can come true but you've got to put that work in."]
If you could change one thing about the industry, what would it be?
I wish it was more equal and not segregated. I want minorities to have as much influence and be seen on the same scale as other nationalities. Sometimes I feel like Black women aren't given their just due.
Of course I still feel discrimination. I'm going to feel that there is still some type of stigma associated with us. It doesn't stop me from following my dreams and doing what I want to do. It drives me even more. It's a known fact that African-Americans do have to work ten times harder than every other race. We all know that. It does make me a little more accountable. As I speak on it, it has always helped me become a better person.

What's next for you?
I have a film out right now with Kat Williams called American Badboy. It's a great piece. Also, Skimpy Mixers just signed a big contract with Burlington Coat Factory. It's a low fruit juice calorie mixers. You can mix with your favorite alcohol. Our motto is "Skimp on the calories. Not on the taste."  We are going to be in 2400 stores. We will also be in Walmart and Acme.
What do you want people to remember you for?
Torrei Hart is a successful business woman. Successful actress. Phenomenal mother. Those are the things that I am.
Of course he (Kevin Hart) is a part of my past. Just like I'm part of his past. This is another thing that bugs me. A lot of people forget that most of his standup was built off of me and the children. We are still part of his life. We are family for life.
That doesn't bother me, but I do want people to remember that I'm a successful business woman – the only African-American woman with a mixer in Walmart, Acme, and Burlington Coat Factory. That's a big deal. The company is successful. People need to know stuff like that. I did that on my own.  That had nothing to do with my ex husband. That was actually that was brokered by my management – who just so happens to be my new love of my life. That was a deal we went out and got brokered and got done.
What makes you shine?
I mind my own business. I'm not a judgmental person. I don't compare myself or my life with anybody else. Comparison is the thief of joy. There's some people who say, "This person has made it before me. How did she  get that? That ain't right."
[Tweet "Comparison is the thief of joy. Everybody's journey is unique. @torreihart"]
Everybody's journey is unique. There is enough out here in this world for everybody to win. I have a huge heart. I give back as often as I can. I embrace people. That has a lot to do with why God is blessing me. I'm always trying to bless others and be a blessing. That's another way that I SHINE. A lot of people say that I motivate and uplift them. I make it a daily point to uplift and put a smile on someone's face.
Share your thoughts on Torrei's interview by commenting below!
PS- Click the links below to SHARE and inspire others to build their brands, no matter what they think may be holding them back.

Connect with Torrei online: 
Website: http://www.torreihart.com/
Instagram: @torreihart
Twitter: @torrei_hart
GET A NEW BRANDMAKERS IN YOUR INBOX WEEKLY, 

CLICK HERE
Tags: brandmakers, comedy, entrepreneurship, success