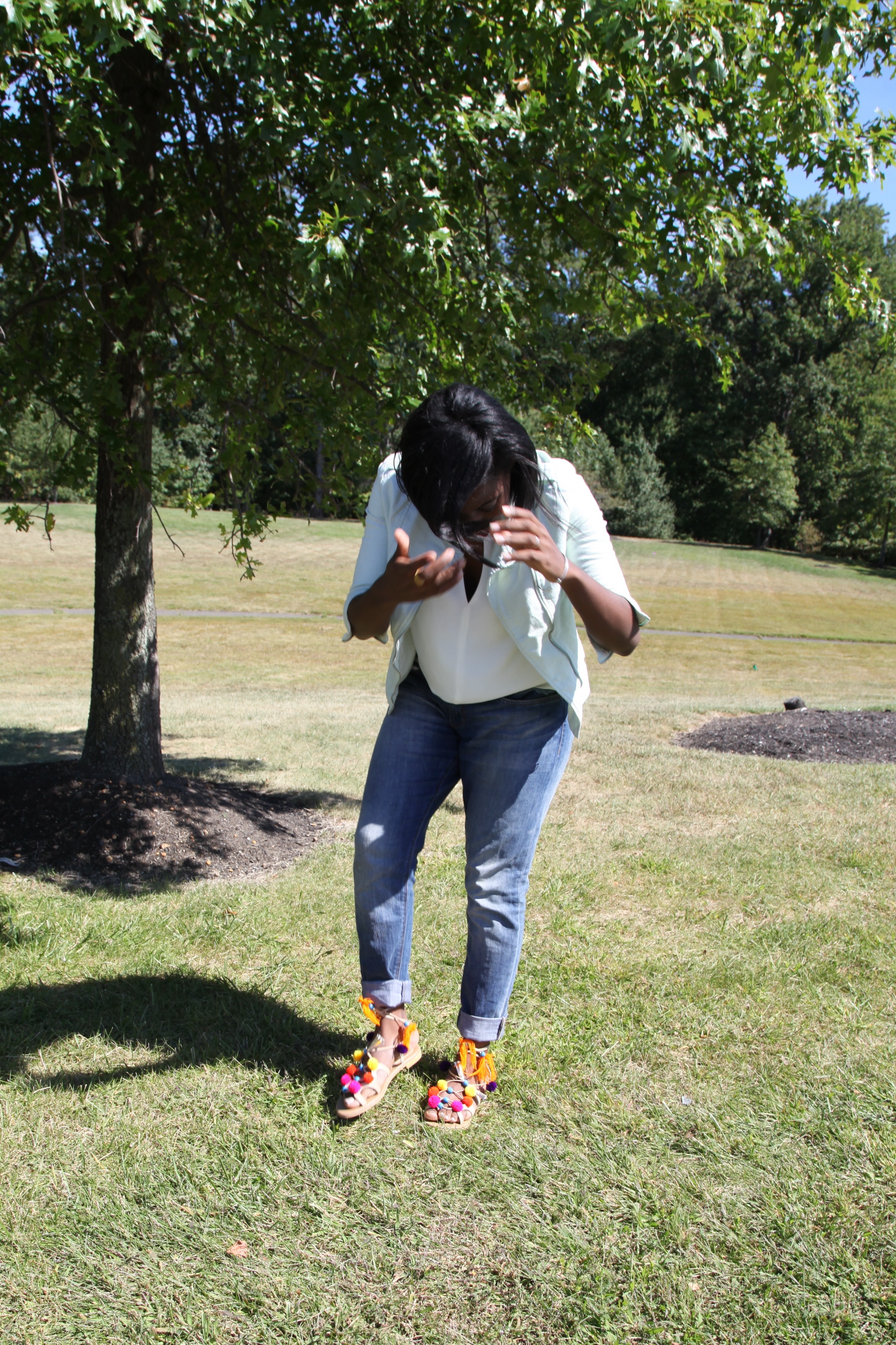 Whether you're wearing pompom sandals or cowboy boots…it's all about how you rock it and your sense of confidence.
Over the summer, I've seen ladies such as my friend New of @viva_la_fashion  rocking pompom sandals. I hadn't really seen many people rocking this trend before this summer but I loved how eclectic it looked. I'm a sucker for shoes that stand out so the gladiator style + tassels + fringes + pompoms screamed different. I love different.
To my surprise – a few weeks ago (after e-connecting with someone on the Soma Footwear team), I was sent my own pair of pompom sandals from Soma Footwear!  Soma – is a new, leather hand-crafted brand that blends East & West fashion style identities to create innovative designs. The shoes came in a very nice cloth handbag that is perfect for storage or traveling usage. (I was going to upload an "unboxing video" but didn't have time to. Sorry, guys!)
So here I was with one-of-a-kind shoe, but Summer was nearly over. Beaches were closed and I wasn't going on a vacation any time soon. I still wanted to wear the sandals so I decided I'd make an appropriate outfit out of it. Here's what I put together:


I was a bit nervous about wearing the sandals to work because I thought they'd be a bit "much." My office dress code is casual/business casual and I'm already known for being fashion-forward with my outfit choices. What would people say?
My outfit consisted of a simple Line & Dot motorcycle jacket, flowy Zara peak-a-boo top, H&M boyfriend jeans, and the "statement piece": my Soma pompom sandals. It was definitely a signature "Rana" look… comfy, casual, but slightly provocative.
My reactions from my co-workers varied. Some "loved the pompom sandals look" while one of my fairly blunt workmates told me they resembled "clown shoes" but was definitely something I could pull off. (I actually laughed out loud when she said this and took NO OFFENSE. She's just one of those type of women who tell it like it is.) Most people complimented me on it and told me that it fit in with my personal style. (Kudos to personal branding!)

I think operation pompom sandals was a success. Beyond anything, taking this kind of "fashion risk" at work taught me that it's perfectly okay to do things that vary from the norm. No one else at my job would probably ever think to wear those type of shoes to work. At the same time, it taught me that because I've always been so confident in my previous outfit choices and had branded myself as someone who likes to experiment with style, my "new look" was embraced.
If you want to be a trendsetter, you have to be confident.
If you want to take risks, you have to be confident.
Because you never know the type of reactions you'll get, you have to be prepared to accept the good, the bad, or the ugly.
Believe in yourself. At the end of the day, it's not what you wear that makes you. You make what you wear HOT. Take more risks. Experiment more. Support non-mainstream brands. Go off the beaten path. Better yet, create your own path! You never know who you're inspiring by continuing to stand in your TRUTH and sense of IDENTITY. Stop trying to fit in when you can stand out.
What do you think of my pompom sandals look? Leave me a note in the COMMENTS section!
Here's some more about Soma Footwear in case you're interested:
What are your future goals toward expanding in the US market?
Soma brings top quality handmade traditional style shoes from South Asia known as "jutti's" or "khussa" to the fashion enthusiast. Soma is not just a brand, it is a movement to bring closer artisans who have mastered the art of shoe making since hundred of years to the western world. We never compromise quality and comfort. Every shoe by Soma is handmade by artisans who put their creativity, passion and love at work. Our intricate handmade embroidery fuses east and west fashion style identities to create innovative designs. Soma aims to build a bridge between the US and South Asia through fashion — we have re-invented the traditional ballet flat to endure the urban demands of the American woman. What kind of impact is the brand having on the community where it's being produced?
Soma brings to you a line of bespoke fine leather flats, that speak the charm of a true old school artisan with a desire to recreate high street fashion.We launched this initiative to provide a platform for rising fashion and art talent to emerge on the international stage. Our vision is to bring forward South Asia's best handicrafts on the ever evolving international fashion grounds.
Disclaimer: The pompom sandals were sent to me for review purposes courtesy of Soma Footwear. All reviews and opinions are my own.
Photo Credits: Marina Vorobyev
The following two tabs change content below.
Rana Campbell is the Editor-in-Chief and Founder of Ranacampbell.com, a site dedicated to personal branding and helping people learn how to SHINE in their personal and professional lives.
Latest posts by Rana Campbell (see all)