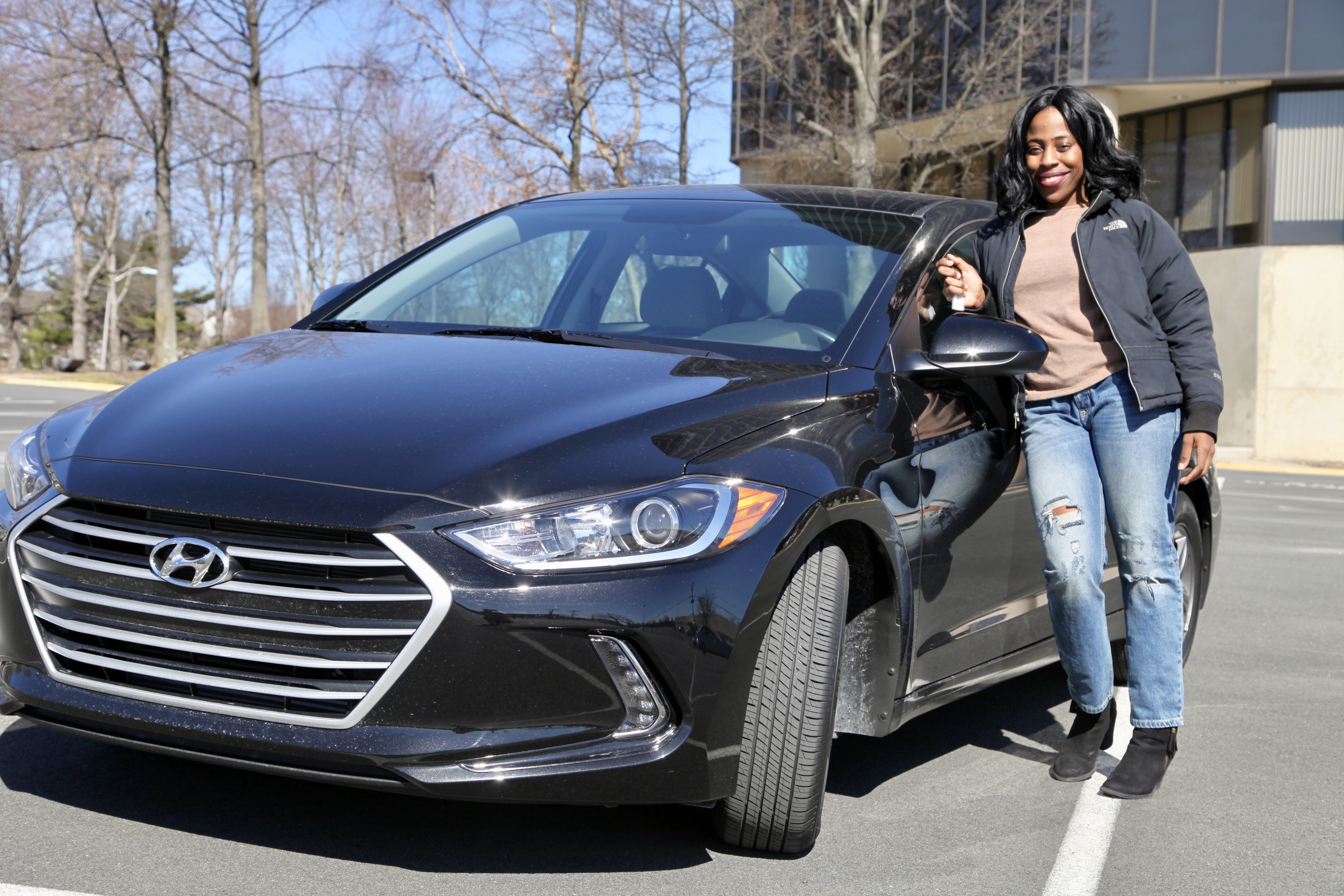 Don't you love it when your technology & tools complements your lifestyle?? Here's why I loved the 2017 Hyundai Elantra Eco.
Recently, I had the chance to review the 2017 Hyundai Elantra Eco and totally fell in love. As you all may know from my recent car review posts, I'm a huge fan of small and sporty sedans. I've never driven a Hyundai before so I was excited to try this one out. Here are 3 things that truly impressed me about the car and made me feel like it was a GREAT match with my busy and (sometimes hectic) lifestyle.
1. MEDIA PLAYER: (APPLE CARPLAY ESPECIALLY)
As many of you know, I am the host of Dreams In Drive – a podcast for creatives & lifestyle entrepreneurs who want to learn how to take their dreams out of PARK and into DRIVE. While my current car has Bluetooth capability, it does not have Apple CarPlay – which, according to Apple, is a "smarter, safer way to use your iPhone in the car. CarPlay takes the things you want to do with your iPhone while driving and puts them right on your car's built-in display. You can get directions, make calls, send and receive messages, and listen to music, all in a way that allows you to stay focused on the road. Just connect your iPhone and go."
So connect my iPhone and go is what I did. While en route to a speaking engagement in Princeton, I decided to get motivated beforehand by listening to the most recent episode of Dreams In Drive featuring Rob Hill Sr.
Here's a screenshot of the Apple CarPlay screen from the 2017 Hyundai Elantra Eco:
Here's how the Apple Podcasts app looked in action:
Beyond Apple CarPlay, I also loved the the overall media nagivation. PS – The speakers were BOMB! I loved the blind spot monitoring capability. Also, the 2017 Hyundai Elantra Eco trim that I drove came with heated seats! Yes, yes, and more yes.
2. SPORTINESS (THE PERFECT SIDECHICK FOR MY #OOTD PHOTOS)
Many of my readers and social media followers love the cool shoots that I do whenever I test drive a car. The 2017 Hyundai Elantra Eco in Black with its sporty exterior was the perfect complement to a very low-key shoot I did one Sunday evening. It was a bit windy where my photographer and I decided to stage the shoot, but the photos still came out well. Check them out below:
3, AFFORDABILITY/ THE "ECO" OF IT ALL (BECAUSE GAS AIN'T CHEAP)
The week that I had the car, I had to take quite a few trips. I traveled to White Plains, New York, down to Princeton, New Jersey, and was able to squeeze in a week of traveling to and from work all on one gas tank. As a millennial professional, a car that is low maintenance and great on mileage will forever be a winner in my heart. The 2017 Hyundai Elantra averages 32 mpg city / 40 mpg highway.
I also liked that the car was very easy to drive. The handling was great. However, I will warn that the car is on the lighter side so you don't want to be too heavy on the gas pedal as the car picks up speed rather quickly. Overall, I really enjoyed my week with the 2017 Hyundai Elantra Eco.
To learn more about the 2017 Hyundai Elantra Eco, visit here.
PS – Here's some motivation for any one of you that may currently be struggling with how your #dreamdriving journey is looking.
It's so easy to compare their journey with your journey. Why don't I have this? Why haven't I reached this milestone yet? If there's anything I've learned over the past year building Dreams In Drive is that we each have our own timeline. There's no one sure path to success. Comparison truly can be a #dreamkiller. While it's hard, I think one of my best tips for fighting comparison is to actively document my journey and personal growth. When you're able to take a step back and look at how much YOU have grown, other people don't matter as much. Plus, at the end of the day, you never know what valleys that other person had to traverse through. You may THINK their journey has been rosy, but in actuality, you don't know a THING. As long as you're working hard and learning something new each day, don't allow yourself to be consumed by wanting what someone else has. Trust me, it's hard. I'm human. I have my days. But remember, there's probably someone out there looking at YOU saying the same thing and what would you tell them? It's not as easy as it looks. All good things come with time, so remain patient.
Another major lesson learned is the power of owning your voice and becoming confident in self. Sometimes when you embark on your #dreamdrive, you can become overburdened with self-doubt. Am I good enough? Why should anyone ever deem anything I have to say or the way I say or the way I curate it – as important? However, as many guests on @dreamsindrive have taught me and shown me through their experience is: YOUR STORIES HAVE POWER. NO ONE CAN EVER DO IT LIKE YOU CAN DO IT. When you embrace your voice, that thing that makes you shine, the universe opens up and blessings come to you in ways that you may never have imagined. When you learn to trust the way you see the world, what others think or what others don't think – really don't matter as much. I'm a work in progress. I'm learning to stand strong and truly believing in what fuels me…to truly see myself and see a woman with legacy and purpose.
Thank you for reading and stay tuned for more car adventures with me as I continue to put my #dreamsindrive!
The following two tabs change content below.
Rana Campbell is the Editor-in-Chief and Founder of Ranacampbell.com, a site dedicated to personal branding and helping people learn how to SHINE in their personal and professional lives.
Latest posts by Rana Campbell (see all)