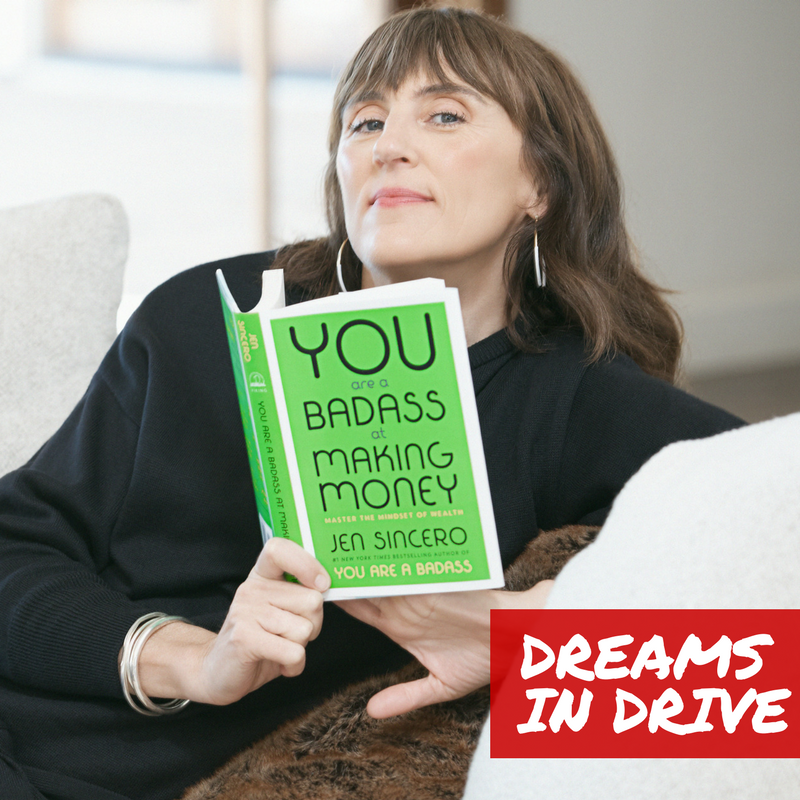 In episode 104 of  Dreams In Drive, best-selling author, coach, and speaker Jen Sincero talked about some things that really hit home for me. We discussed mindset shifts that will help us on our road to being a BADASS at making money.
They also relate to other areas of the #dreamdriving journey as well.
#1: If you spend your whole life worrying about everyone liking you, you will never leave the house.
Not everyone is going to like what you're doing, believe in what you're doing, or support what you're doing and that's A- OKAY! Keep on pushing towards YOUR goals. (I also talk about this in EP 103)
#2: If you want to change your financial reality, you have to do stuff that's scary. Get really clear on what your fear is, then question it. 
Charging more can be intimidating (especially if you haven't done it before.) However, if you truly want to reach this next step in your business, you will HAVE to overcome that fear. Question it. Figure out what's truly motivating those feelings. Realize that those fears are not permanent. You deserve to be making more.
#3 Lack of experience is not an excuse for not going for it. Stop wanting your excuses more than you want your DREAM.
"I'm a newbie." 
"I don't have enough time."
"I've tried before and it didn't work out."
Those are all excuses. If you give in to them time and time again, you really don't want that dream of yours to flourish. You want to become a professional excuse-r.
So what if you're new? Everyone has to start somewhere.
Don't have time? Find time. (We all have the same 24 hours.)
The last idea didn't work? Try a new method.
As our guests over the past 100 episodes have taught us, along this journey, mindset is everything.
Listen here:

What's one mindset shift you've undertaken that has transformed your life? I'd love to know! Share in the COMMENTS section below!
PS: We currently have TWO giveaways running that I want to make sure you don't miss out on.
Win A $25 Visa gift card by taking the Dreams In Drive listener feedback survey. (Giveaway ends 9/11)
Win A Copy of Jen's "You Are A Badass At Making Money" (Giveaway ends 9/17)
Listen to previous Dreams In Drive episodes:
Site: dreamsindrive.com
Soundcloud: soundcloud.com/dreamsindrive
Apple Podcasts: bit.ly/dreamsindriveITUNES
GooglePlay: bit.ly/dreamsindriveGOOGLEPLAY
The following two tabs change content below.
Rana Campbell is the Editor-in-Chief and Founder of Ranacampbell.com, a site dedicated to personal branding and helping people learn how to SHINE in their personal and professional lives.
Latest posts by Rana Campbell (see all)