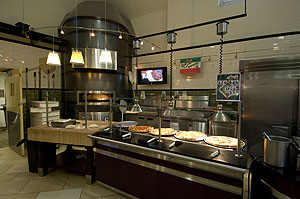 There's always a gem in a needle stack.
Here's the most important lesson I learned from the worst job I ever had.
I've had different types of jobs over the years. Here are some:
Babysitter
After School DayCare Assistant
Bowling Alley Attendant
CBS Corporation Intern
Event Photographer
Digital Marketing Agency Intern
Communications and Marketing Intern at Princeton Career Services
Freelance Associate Publicist
Program Analyst
Event Staff for the 2013 Tommy Hilfiger Fall Photoshoot
….but the worst job I ever had was: working in the dishroom of the dining hall during my freshman year of college.

This is why this was the worst job, ever.
I hate washing dishes.
People never clear their trays like they're supposed to.
You get splahsed with all types of food waste.
You have to clean the kitchen and prep it for the morning dining hall staff.
I hate cleaning industrial sized dishwashers.
You had to dispose of all uneaten food in "pig buckets." (I'll let your imagine do the rest…)
… and the list goes on.
BUT here's a very important lesson I learned:
You can hate your job but love the people you work with.
If you love the people you work with, the job you hate won't seem so bad. In fact, being around people you like can drown out the rancid smell of dirty dishes and an equally dirty kitchen. The TEAM becomes more important than the job itself. You start looking out for each other. You start bonding. When you leave the worst job ever, you'll have friends (and skills) that will last forever.
Sure, Rana… I'll take out the pig bucket. You mop.

Let's make a system to stack the trays and get the cups through the dishwasher.
Last Tuesday, we were able to do this entire kitchen in 45 mins. Let's try to set a new record.
These were all real memories from my life in the dishroom. As a team of people who equally hated our job (except for the shift captain who loved being a shift captain and singing at the top of his lungs,) we realized we were all in it together. We were going to make the most of our 2 hour shift. We found the GEM in helping each other solve problems, creating competition, and looking out for each other.
In the end, the most important lesson I learned from the worst job I ever had was that thinking about how much I hated my job made no sense.
Finding things you love about the worst job in the world is a much better use of your time. For me, I found that I liked the problem solving, competition, and family environment. I liked getting to know dining hall staff, eating leftovers, and being part of a team.
Actually, the worst job I ever had wasn't the worst job I ever had.
Though the "worst job ever" I met this lovely lady named Reyna. For four years, she was like a second mom and always made sure I was okay. I love you Reyna!
What's the most important lesson you've learned from the worst job you ever had?
COMMENT BELOW! 
I'll do something special for the person with the most interesting lesson! (I promise.)
The following two tabs change content below.
Rana Campbell is the Editor-in-Chief and Founder of Ranacampbell.com, a site dedicated to personal branding and helping people learn how to SHINE in their personal and professional lives.
Latest posts by Rana Campbell (see all)
Tags: advice, career, career advice, life tips, professionals, worst job