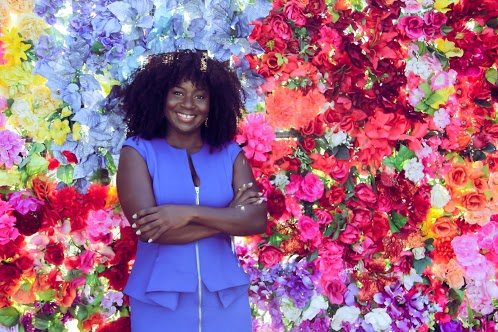 This post originally appeared on Madame Noire Business. You can read the full story here. 
Today we're going #behindthebrand with Toni Murray, CEO and Co-Founder  of Haute Kinky Hair, a naturally-textured premium virgin kinky hair extension line. She founded the company in 2012 with the purpose of helping professional woman find a protective style that suits their lifestyle and resembles their natural hair texture.
Murray has over 10 years of experience in Banking and Real Estate and holds a Bachelor's of Science in Business Administration and a MBA in Finance and Real Estate Development. Murray currently runs Haute Kinky Hair while managing several business and  pursuing a Doctorate in Natural Medicine! We chatted with Murray about what it's like running a hair extension business, working with vloggers, facing industry competition, and evaluating the state Black-owned beauty businesses. Check out the interview below.
Madame Noire (MN):What inspired you to start Haute Kinky Hair (HKH)?
Toni Murray (TM):  I used to wear protective styles that did not recognize who I was as a person working in the corporate world.  Instead of doing the straight or wavy wigs, which clearly wasn't me, I wanted my hair to be naturally textured because when I came to work with my naturally textured hair, it became a question as to, "What did I do to my hair?"  I  wanted to maintain my hair without having to manipulate it too much. I wanted a texture that actually looked like naturally textured hair and acted like it.
MN: What did you have to do to get Haute Kinky Hair off the ground?
TM: Because I had businesses before and they did not do so well, I learned  from my mistakes which was a good thing. People feel that if they start one business and it doesn't work out that the next one won't work out but actually it's a stepping stone for what to do right the next time. When I started Haute Kinky Hair, I did a lot of research on the hair industry. Before I launched, I would wear each line, manipulate it, and figure out what worked and what didn't work so that we could also figure out what kind of instructions to give people when they got the hair.  I also traveled to Thailand, China, and Brazil to talk to suppliers.
MN: What is it important to travel and talk to hair suppliers in person when starting a hair business?
TM: If you are really invested in your business, seeing your suppliers and making sure that they are doing the correct thing for the extensions that you are going to sell and learning the process they use is very essential in the hair industry. You want to be able to provide your customer service team  information about how to address hair issues. If you don't know what is going on with the hair, you can end up with a lot of inventory with a lot of issues.
MN: How long did the research stage take before you took the product to market?
TM: One year. I actually wanted to make it last two years but I had to bring it up by six months. I gave the extensions to  YouTube bloggers Iknowlee,  KyssMyHair, and Ambrosia Malbrough  to test and to see how they liked it. Since they started posting pictures and doing Youtube videos on it, people started requesting  it earlier than I planned for. I had to launch three months ahead of schedule.
MN: How did launching ahead of time impact the business?
TM: It was a good decision. If I waited any longer, the customer would have wanted to know what kind of business is this.People don't like waiting for something if others are approving it. The fact that they are willing to do preorders and get their extensions three weeks later, I knew I was on to something. They trusted the brand. I had people who knew how to wear extensions and were a voice for them in terms of natural hair and protective styling that they trusted.
MN: What were some of the brand building systems that you put in place in order to position HKH as a leader in the market?
TM: Because I am also a customer, I had to  get in tune with what a naturally textured person would want to see in a protective style. I looked into the product's durability, how long it would last, what it does, and its price point. The name was important, too. In French, "haute" means luxury. People want luxury goods but they don't want to pay the luxury prices.  I wanted to have a play on words. Our kinky hair is luxurious and can look great and perfect. I also had to look at expenses. I wanted to advertise and get the name out. I had to look at people that customers  trusted.
MN: What helped build your brand exposure the most?
TM: What helped was bloggers and vloggers. Customers go to Youtube for anything in terms of cooking, baking, hair, and advice. We're a very social media and internet-focused community right now. I also communicated to bloggers and vloggers that were able to review that if you don't like it, let me know what's wrong and trust me, I will change it. If you go and look at different vloggers and bloggers and their opinions on the extensions, I always tell them to give your pros and cons. I want the customers to also be able to trust my company. I don't want vloggers to say "This is the best hair in the world!" Then, the customer has issues and won't trust the blogger anymore. I want people to say what they love about it and be truthful.
MN: What have been some challenges you faced so far?
TM: Even though it's been a year , there are still people out there that don't know the brand. We get compared a lot to (and called) other brands.  People are surprised at what we can do and what we provide at the price point. We haven't changed our prices. We still have discounts on top of what we currently provide.  Another challenge is hiring beauty insiders and trying to find people who are interested and just don't want to be part of the brand because it's free extensions. I want people who trust the brand and want to be apart of the brand's growth. I have to be able to trust  that they will also promote the product. That's been a challenge. [A tip would be to] make sure that you are on the same page with bloggers you work with. If they say they are going to provide something, hold them to it. Have a contract. Know what needs to be done so no one is shocked if something doesn't happen.
MN: What's been the key to managing multiple projects and running a hair line.           
TM: I'm doing Haute Kinky Hair, pursuing my doctorate in natural medicine,  and running multiple businesses. I think my drive has to do with my family background.  I grew up in a family on entrepreneurs. It should not deter anyone though. By growing up in a family like that, it engrained in me  to start a business and be passionate about what I do.
MN: What are some of your personal strengths that have helped your business?
TM: My ability to stay focused, be organized and detail-oriented. You should be aware  of everything that is going on. You should also have a team of people that believe in your brand and are aware of what it is going on. If you have one person doing everything and no one knows what they are doing, it leaves the stuff to not being able to run a cohesive organization.  My strength is trying to run the company as a team.
MN: What are your future plans for the company?
TM:  I'd like to see the brand grow internationally. I am doing brunches around the country and hair meet-ups on correct protective styling, hair retention/growth, and [women's health and diet].  I want people to know that I'm not just someone who is selling hair. I actually know the human body, anatomy,  things to do, and how to eat so that you can actually thrive and be a healthy human being. A lot of people believe in topical remedies, but a lot of [problems] stem from your internal organs. These are things that people need to be aware of.
MN: What's the best business you ever received?
TM:  Know your product. Know what you're selling.  Don't just know it in terms of, "I'm selling a shirt and this is 100% cotton." Know it in terms of how many shirts, what's the length of the sleeve,  and what kind of cotton you've used. Know every single thing about your product.
#shineon
FOR ACCESS TO MORE BRANDING BITES, ADVICE, AND FREE TIPS, JOIN OUR MAILING LIST BY

CLICKING HERE

'
The following two tabs change content below.
Rana Campbell is the Editor-in-Chief and Founder of Ranacampbell.com, a site dedicated to personal branding and helping people learn how to SHINE in their personal and professional lives.
Latest posts by Rana Campbell (see all)
Tags: behind the brand, entrepenership