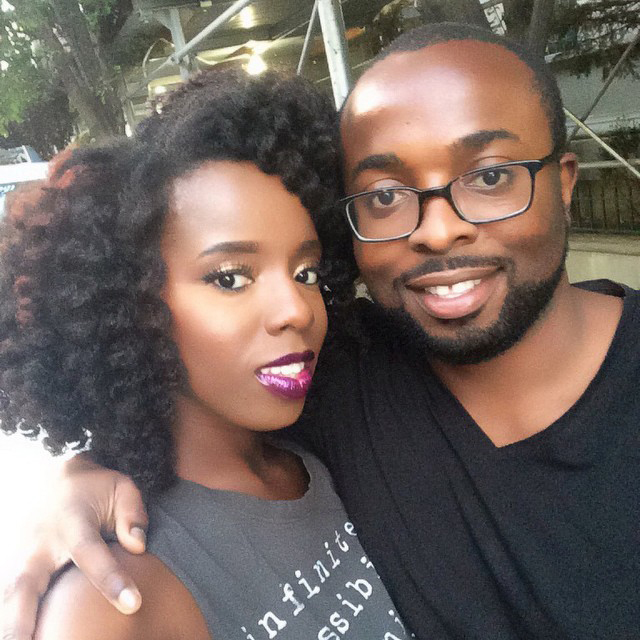 CurlSistas founders Joy Adaeze and Obi Okere share brand building tips from their experience running an online destination where "natural hair meets personal style"
Meet Joy Adaeze and Obi Okere, the husband and wife team behind CurlSistas, an online community where "natural hair" meets personal style. The two launched the company in March 2014. In 9 months, they've launched a hair line, been featured on top sites such as Essence and Pop Sugar Beauty, and built a loyal following of women who use CurlSistas as their go-to source for hair & style inspiration.
I first learned of Joy after spotting her after attending a Tracey Reese fashion show in February 2014. I was intrigued by her personal style and went online after the event photos were posted to find out who she was! (That's what you have to do sometimes!)  Since then, I've been hooked on her story and have been a huge followers of hers on social media. When the opportunity arose to interview her and her husband about the hair/fashion company they founded,  I was beyond thrilled. I've watched CurlSistas build organically ) and am excited to see what the future holds for the brand.
The couple's passion and commitment for their company is evident and inspiring. Check out the interview below!
In this BRANDMAKERS, you'll learn…
The inspiration behind CurlSistas
How responding to their customers caused Joy and Obi to change their business plan (which ended up being a good thing!)
The recipe for choosing the right business partner
Why getting a mentor was pivotal to CurlSistas growth
4 tips for growing your online brand
How watching TV shows such as Shark Tank helps their business….and more!
My biggest takeaway from this BRANDMAKERS?
 Figure out what your customer wants. Don't be afraid to pivot. Business growth comes from listening. (CLICK TO TWEET)
What inspired you both to start CurlSistas?
Joy: Obi and I were talking about doing a turban line. I'd been wearing turbans as a fashion accessory for four years. People were asking me to do a collection. We noticed that the girls that were asking were natural haired women. We thought why don't we start a natural hair go-to destination and after we grow our following, we'll put out the turban line. That was the initial idea.
One day in March, we sat down in the living room in our Harlem apartment. We came up with the name CurlSistas. We went online and got our domain name and social media handles that same day.
Our idea and theme behind CurlSistas was to create a destination where natural hair meets style. It meshed my two backgrounds in style and beauty and Obi's experience in business.  People loved the inspiration. We're known for posting awesome photos of women who are stylish and have natural hair. Our readers would come on every day and get a lot of inspiration.
With all the different hair and beauty sites out there, what makes CurlSistas so unique?
Joy: Us. Being a husband and wife team and working on natural hair is unique. I've never heard of anyone doing that. Our fashion edge/angle is also something. We showcased what it means to be a fashionable and stylish natural.
With our hair-line, women find it unique because they have been following us and know me and Obi's story. We were friends. We met at Rutgers as Freshmen. We are married now. He's my best friend in the whole world. We had fun building this company. Our readers like the family based nature of the company.
We also love our customers and are really big on customer service. We called a bunch of customers the other day to see how they were liking the hair. For us, that is something very natural to do. We go above and beyond.
We also have an e-book that we wrote called The CurlSistas Guide to DIY Natural Hair Products. It stems from our followers asking us for natural hair care tips.  ⅓ of the book is about the basics of natural hair, then we go into the benefits of each product and share our amazing recipes. That sets us apart from any company right now selling hair. We have more products to educate our consumers on their own hair and how to maintain.
What were some of the first things you had to do to get the brand up and running?
Obi: With me being a man, I didn't know anything about hair. First, I went on every natural hair website and familiarized myself with the marketplace.  I bought all the popular natural hair tutorial books and went through them in three weeks. I tried to  learn as much as I could. Once I started to  get a good understanding of the community, it put me in the position to think about how we would want to position ourselves in the marketplace. That's where I was able to start to designing the website.
Alot of people don't know I have a background in web design. It's been a skill I've been able to leverage for a long time. It helped us be able to launch CurlSistas so quickly.
Joy: We had two phases to our business. The first was launching our website in April. The second phase was launching the hair line.  When launching our website, we put a date on it. We didn't know everything. People were getting excited from an interview we did with celebrity hair stylist Ursula Stephen. There was alot of great buzz. Our friend Ty Hunter (Beyonce's stylist) was sharing photos. We had to get the site out there. The same thing happened with the hair extension launch. We had our images back from our photographer.  We needed to have a date to sell. Have a plan at all times. Having deadlines is  also important. Trust yourself. Take risks (especially in the beginning).
What were some of the challenges you faced while building the  CurlSistas brand?
Obi: We had an initial plan on how we would make money early on. We originally were going to build a community of women and then open up an online shop. We we were  going to sell fashion hair accessories and leverage Joy's background in fashion. We thought it would be a great way to generate income. The day we launched our site, we quickly learned that women were coming to our site for hair and not for fashion and beauty.
That was a big challenge for us. We had to realize the first way we thought we were going to make money was not going to work. We needed to figure out something quick. Otherwise, all the time that we were spending in the business was going to be wasted. We had  to figure out how to serve the community of women that we had built.
Joy: With my  fashion background and with Obi's business background, it may have seemed to be an off to the left idea to sell hair. However, people don't know that I was doing hair since I was 15 years old. I did a lot of my family and friend's hair. That was one of my biggest passions and hobbies before joylovesfashion.com. Everything really came full circle.
Obi and I bonded when it came to hair. When I went natural, I said I was tired of my hair breaking and cut it off myself.  Back then, there were no natural hair extensions  like what we have today. I had to really get out of my shell. I never had short hair. I didn't know if I was going to look weird. Obi was the one who said, "Wear your natural hair. It's so beautiful. You look great." He got me my first products. Obi has always been very supportive and curious. That's been an amazing way for us to have this common goal which was to help women feel comfortable and  give them styling options. We like that our growth seems natural and organic, which is what we like for our brand.
How do you choose the right business partner?
Obi: Choosing the right partner can be pretty tricky. You need to  think about what the person brings to the table. It can't just be, "We work great together." Business-wise, you need to think about their contribution and the role they can play that will serve the both of you together. Joy is very artistic and creative. I'm all about the numbers and the business and doing deep research. We complement each other. Find out what your partner is going to contribute to the relationship.
Joy: You need to trust your partner. He/She is going to become your work husband/wife. (In this case, Obi became my real husband!) You have to have discussions about everything from your brand, products, to finances. If you don't trust someone, you'll doubt if they can contribute and deliver. If you trust someone wholeheartedly with your business, you can become successful. Without trust, there is no teamwork or  real solid continuous building.
What's something you've learned about running a business over the past few months?
Joy: When you have your own business, the work never ends. You're working on orders all the time.  I've had customers who text me and ask me questions. You have to be there to answer those questions or else you are not really serving them the way that you should.  We've learned as we've continued that  our customers appreciate our customer service.
Obi: I didn't realize  how complicated shipping was. I can't tell you how many times I walk into the post office asking random questions.  You really don't know shipping until you start shipping stuff. It's definitely surprising when you realize what you don't know.
Obi: Prior to this, I had a career coaching business. I was providing a 1 to 1 service to other professionals. I had a background in sales. I discovered quickly how little I knew about managing a large enterprise and what my knowledge gaps were. One of my favorite sites was personalmba.com. It lists 99 books that you can read to gain the equivalent knowledge that you would get if you had an MBA.
I also found out there were gaps in my knowledge around areas such as pricing and competitive strategy. I felt that I had to fill those gaps by reading as much as I could by getting a mentor. It's a humbling experience when you are growing a company that you think is growing bigger than you. It's important to get the advice of the people who have been there and done that to avoid the mistakes.
Early on, we had a couple mentors that gave us some great insights. If we had not gotten those insights early on, it would have cost us financially. I didn't expect that at all.
How did you find mentors for your business?
Obi: Half were people we already knew.  We also sought people out. There are different programs in New York City that helped. Score.org helped. I am finishing my master's at Columbia University and am in a program called Entrepreneurs in Residence where well-known entrepreneurs throughout NYC make themselves available  to give advice to Columbia students on how to grow their business. Knowing what we needed help on made it easy to find a mentor that could help me on that exact thing. Be specific on what you need help on. It makes it easier to tell people and find who can help.
What are your top tips for helping someone build an online following when trying to launch a business?
1. Find out what your angle is and what you are going to give to your followers and readers. Followers follow people for a reason. People came on CurlSistas because they knew about JoyLovesFashion.com  and knew that we were going to be giving great style inspiration for hair and showcasing stylish women who had natural hair. They also loved our story (us being an African-American husband and wife).
2. Don't try to be like everyone else. Be open about who you are.  People like unique people who are really honest with what they are trying to do with the platform.
3. Be consistent. From the beginning, we said we were going to empower through style. Through CurlSistas Hair, we are still doing that, but in a more tactile way. We're inspiring people in a more direct way. Now they can buy our hairline. Don't post something one day and then the next post something entirely different. People who have been following us since April can still find what they first found when we started the company.
4. Don't be afraid to take your time and grow your brand organically. Don't be so worried about having to get big quick. We were only able to get that big because people loved our concept and wanted to see Obi and me work together. Be yourself. Have a strong voice.
What do you both to do relax?
Obi: We have a couple of shows that we watch. We love Love and Hip Hop and Housewives of Atlanta. We also really love to watch The Profit  on CNBC. It's about Marcus Lemonis who is worth over $100 million. He goes into these businesses and partners with them by investing in them and taking ownership of part of the company. He revamps their business structure so they can scale quickly, make alot more money, and do things they thought weren't possible. We've also watched every episode of Shark Tank. It's fun watching and getting ideas for our own business. We get inspired and say maybe we can do that.
Joy: The most important thing for someone who is thinking about doing this type of business with their partner is you have to set out some time that has nothing to do with the business. It gets hard (especially when you live together) to not talk about business ALL the time.  You have to have boundaries so that  you don't get consumed by your business and lose parts of your relationship, which is really easy to do. Obi and I had to be really conscious of that.
What's next for CurlSistas?
Obi: We are focused on being the #1 natural hair extension line in the world. We are trying to take over the United States with our hair line and serve as many people as we can. We are still in our startup phase. We are focused on growing the company and being able to serve more women through our product.
What's your favorite lesson from today's BRANDMAKERS? Share your thoughts in the COMMENTS below.



Connect with CurlSistas Online:
Website: http://curlsistas.com/shop/
Facebook: https://www.facebook.com/curlsistas
Twitter: @curlsistas
Instagram: @curlsistas
Pinterest: http://www.pinterest.com/curlsistas/
Youtube: https://www.youtube.com/user/curlsistas/videos
TO GET A NEW BRANDMAKERS DELIVERED TO YOUR INBOX EACH WEEK,

CLICK HERE
The following two tabs change content below.
Rana Campbell is the Editor-in-Chief and Founder of Ranacampbell.com, a site dedicated to personal branding and helping people learn how to SHINE in their personal and professional lives.
Latest posts by Rana Campbell (see all)
Tags: beauty, entrepreneurship, fashion