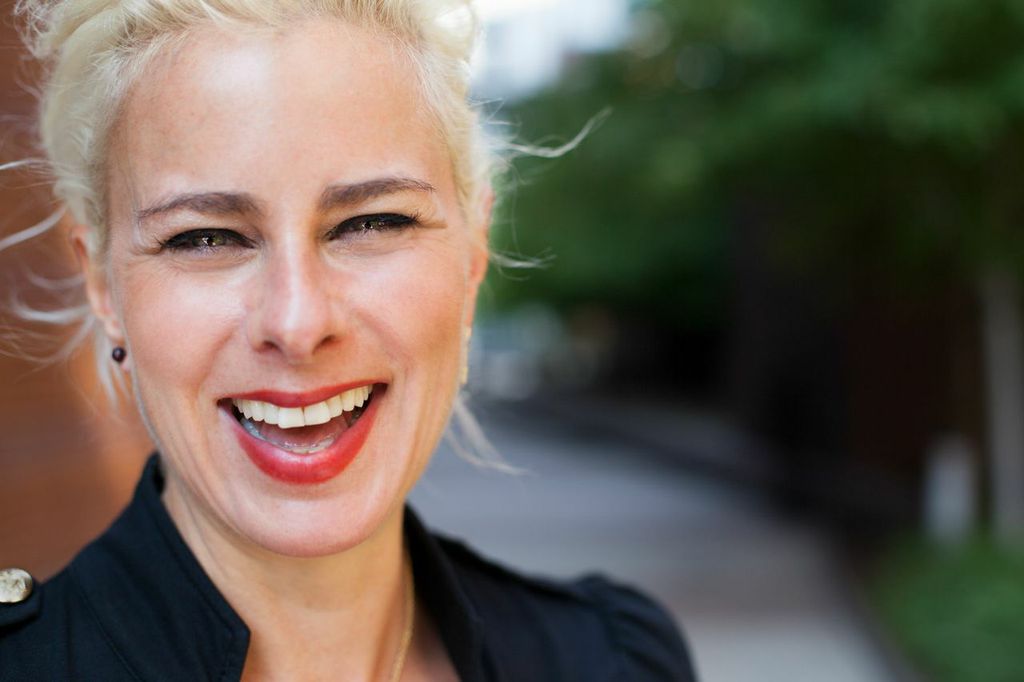 Lori Cheek went on Shark Tank and was told to "shoot her business behind a barn." That didn't stop her.
Meet Lori Cheek, the founder of Cheekd, a dating app that uses Bluetooth technology to help connect people in real-time. I spoke with Lori to learn about how she started the company – with no business or technology background. Lori shares the secrets to her entrepreneurial journey and what her experience on the show Shark Tank taught her about what it takes to be successful. Cheekd, in her words, has turned her life "inside out" but she wouldn't have it any other way.
My biggest takeaway?: "Sometimes you need to be stubborn when it comes to believing in your ideas." (CLICK TO TWEET)
If people are telling you that something isn't going to work (but you believe it in your heart that it CAN), keep on fighting the good fight. Of course, over time, your idea may evolve or change, but never let anyone discourage you from at-least pursuing it and attempting to reach success.
Sound interesting? Check out Lori's interview below!
What inspired you to start Cheekd?
I was an architect for fifteen years in New York City working in furniture and design. One day I went to a design party in Soho in New York with a friend of mine. We went across the street to eat. I excused myself from the table for a few minutes. When I came back, my guy friend had scribbled on the back of his business card, "Want to have dinner?" and he slid that to a woman as we were leaving the restaurant. This lightbulb went off above my head that I could not turn off. That was the inspiration for me to start this dating card business.
Instead of flipping a business card to someone, you could hand them something that had a funny pickup line on it and a code. The card's recipient would type in the code on my website and  find the person's online profile. It took me a couple of years to make it happen. I ended up leaving my career in architecture and now I'm building relationships.
Once you had the idea, how did you start building the business?
Honestly, I had no idea what I was doing. I needed help. I didn't know the first thing about starting a business. I am a very creative person, but I don't have any business background. I kept thinking of who I thought would be a good partner. One night I was out and I told these two guys about my idea. They loved it so much that they decided that they wanted to get involved. They both had business backgrounds and said why don't we sit down and we can figure out how to split up the equity of the business. We'll bring it to life.They helped get the logo outsourced. They got web developers on board. We started working on branding. We applied for a patent (which we ended up getting for my coded cards- four years after the fact.) We built all of our social media platforms. It took about a year. We launched the business in May of 2010.
They are no longer with me, but they helped me get the idea off the ground. Ultimately, I should not have gotten two guys that had the same skill set. I could have used a technical person to do the coding and technology work that I needed. That was a lesson learned.
Were you still working at your architecture job during your pre-launch phase?
We launched while I was still at the job. I stayed on for about six more months. I realized that I had gold in my hands. I had to prioritize. Which root was I going to take? Was it going to be my business that I worked on for two years at that point OR was it going to be this career that I wasn't in love with? I left. I have been working for Cheekd full-time for 4 ½ years.  However, I do think that my art and architecture background has come in handy when  keeping on top of  the design element of my business.
Many people are in careers that they aren't happy with. They have an idea, but are scared to pursue it. What advice would you give to the person in this position?
Entrepreneurship is a huge risk. You can't go at anything half-way. If I kept those two jobs at the same term, I wouldn't have been able to build my business to where it is today. If you can't stop thinking about it, then figure out a way to make it happen.
If you can't stop thinking about it, then figure out a way to make it happen. (CLICK TO TWEET)
 Get the right team around you.  It's really difficult to do it on your own. Find people that believe in your idea as much as you do. Get a strong support system around you. Give up doubt. Give up excuses. Take the plunge. Put everything you have into it. Don't look back.
How did your business change once you had the right team? 
We kept outsourcing technology from all kinds of people. Unless they are vested in your business, I don't think they care that much. That was the biggest problem in the 5 years I've been building this business. I ended up finding a guy that codes. He's actually a successful and savvy serial entrepreneur and comes with a lot of crucial talents. We ended up hiring an agency to build the new Cheekd. We just launched a brand new app. It's similar to the concept of the cards that we launched five years ago, but there are no longer any cards. If it weren't for my new partner, I don't think I could have done this on my own.
What challenges did you face when building Cheekd?
Finances have been another sore spot. I never raised money. That's something to consider. If you can't find angel or venture capital investors, an easy way to get a jumpstart is to get a friends & family round. Crowdfunding is also a great way, but even to do that you must have a strong social media following.  I had to get very creative on how to get money to keep building my business. I ended up selling my wardrobe. I sold my electronics. I rented out my apartment on Air BnB. I made almost $100,000 doing creative things to keep making money to build my dream.
I do think there are some less trying ways to fund your business. A city like New York is a perfect example of how you can  go to meetups and networking events in technology. You can meet other entrepreneurs and find out their status in fundraising and make some connections. Going to pitch events where venture capitalists and angel investors might be judging is also good. Word of mouth and asking around is useful, too. Maybe you have a speciality that a certain investor is interested in.

How did you get on Shark Tank?
For years, everybody said Cheekd was the perfect product for the show. I never really  watched it, but I knew what it was. One day, a girlfriend of mine sent me the link and  said they are accepting applications for season 5 and that I should submit. I looked at the application. It looked like it wasn't that exhausting so I filled it out. The next thing I knew I was getting phone calls from Los Angeles. They loved my idea and thought it would be great for the show. It took a year from the day I applied to the day that the show aired. It was a huge opportunity in a coveted spot to go on to Shark Tank.
It was one of the most frightening moments of my life walking down that hallway in front of those investors.
What was your biggest learning moment from the show?
 I don't think it was my idea that they hated so much. They hated how little money my business had made. That was related to my website and not having it working properly. That's why I wanted to go on Shark Tank. If they had given me an investment, I could have fixed everything. It all worked out in the end. The lesson  learned is,  "All press is good press." Even though Kevin O'Leary told me to shoot my business behind a barn like a rabid dog, the rest of the world emailed me the next morning saying, "I love your idea. Whatever you do, don't give up." There was a crowd of people cheering me to the finish line. It was nice to hear that the world got it, but the sharks didn't. They are billionaires and don't understand how difficult it is to be single roaming around the streets of New York City.
Even if the sharks don't get your idea, maybe there are other investors out in the audience that are watching. I've gotten such a support system from the show and people watching me get eaten alive on national television. It's been re-aired all over the world. We keep getting traffic to our site. I would advise anyone to take the risk and try to get on Shark Tank.
What makes the new Cheekd so unique? How is it different from other dating apps on the market?
The concept of the old idea that was about taking the online out of  online dating. It was about making ice breaking introductions in the real world. Now what we have built is a bluetooth mobile dating app where if anyone comes within your path (let's say a 30 foot radius), the bluetooth will connect your phones and it tags each other so you can see that person's profile. You don't need an internet connection. This is about solving missed connections. Unlike any other dating app, you're flipping through people who are within a certain radius of you, but you're still shopping for a stranger online. My app is basically meant for you to pay attention to what is going on around you because there could be someone at the end of the bar. You might not see them, but the Cheekd app is going to tell you that they're in the room. I think it's going to take people's faces off their phones and pay attention to what is standing right in front of them. The love of your love might be just next to you! Hopefully, the app will help solve missed connections all over the world.
How important  has networking been for your business?
One thing my dad always told me as a kid is, "It's not what you know, it's who you know." I was always suspect of that, until I realized the networking I've done has landed me in so many amazing opportunities. I've gotten covered in Forbes and the Wall Street Journal just being at a women's networking event and was chatting up editors about my ideas. The number one thing that I've done right is networking. You never know who you are going to meet. I usually go places alone so that  I don't get stuck talking to a friend.
Do you have any tips on how aspiring entrepreneurs can build their social media audience?
Create a personality within your social media. You've got to stay consistent. Whatever your brand is (like mine is dating and singles), you've got to use content about that subject. Make it interesting or make it funny. I hired someone early on to do my social media. I remember  he used to tweet the most depressing stories about dating, and I thought, "This isn't what we need to be sharing with our followers!"  Keep it positive. Keep it light. Humor goes a long way. Use every platform you can. I use it all and I use it every day. Social media is the easiest and best way to reach people all over the world with no budget.
Has something unexpected happen to you throughout this journey? 
My whole life has been turned inside out from having built this business. I had no idea what I was doing. Now it's almost like I'm starting to build a brand new business. All the money that I put towards my company has been education.It's like I've taken a master in business.  I've met the most interesting people back when I had those cards. I've made a lot of friends I otherwise wouldn't have known. I've got a pretty big following of people who are loving my lightbulb idea. We no longer have the cards, but hopefully I'm pivoting it to something that will make it a whole lot easier for people to meet each other.
What keeps you going?
I believe in this more than anything. I'm a romantic. The fact that I've giving singles all over the world an opportunity to find love.  I'm trying to help people. I don't know what's better than that. Love is magic.
What makes you shine?
 The fact that I've been very stubborn my whole life has come in extremely handy in building this business.  I don't take no for an answer. Failure is not an option for me. I'm relentlessly determined to succeed. That's what's going to lead to my success in the end.
What did you think of Lori's story? COMMENT below!
Connect with Lori/ Cheekd online:
Download the iTunes app: https://itunes.apple.com/us/app/cheekd/id807619613?mt=8
Website: http://cheekd.com
Facebook:http://facebook.com/cheekd
Twitter: @loricheeknyc
Instagram: @cheekd
Linkedin: http://www.linkedin.com/pub/lori-cheek/4/81b/168
Youtube: http://www.youtube.com/user/CheekdNYC
Pinterest: @cheekd
If you liked this BRANDMAKERS, you'll also love: 
The following two tabs change content below.
Rana Campbell is the Editor-in-Chief and Founder of Ranacampbell.com, a site dedicated to personal branding and helping people learn how to SHINE in their personal and professional lives.
Latest posts by Rana Campbell (see all)
Tags: business tips, entrepreneurship, inspiration, shark tank