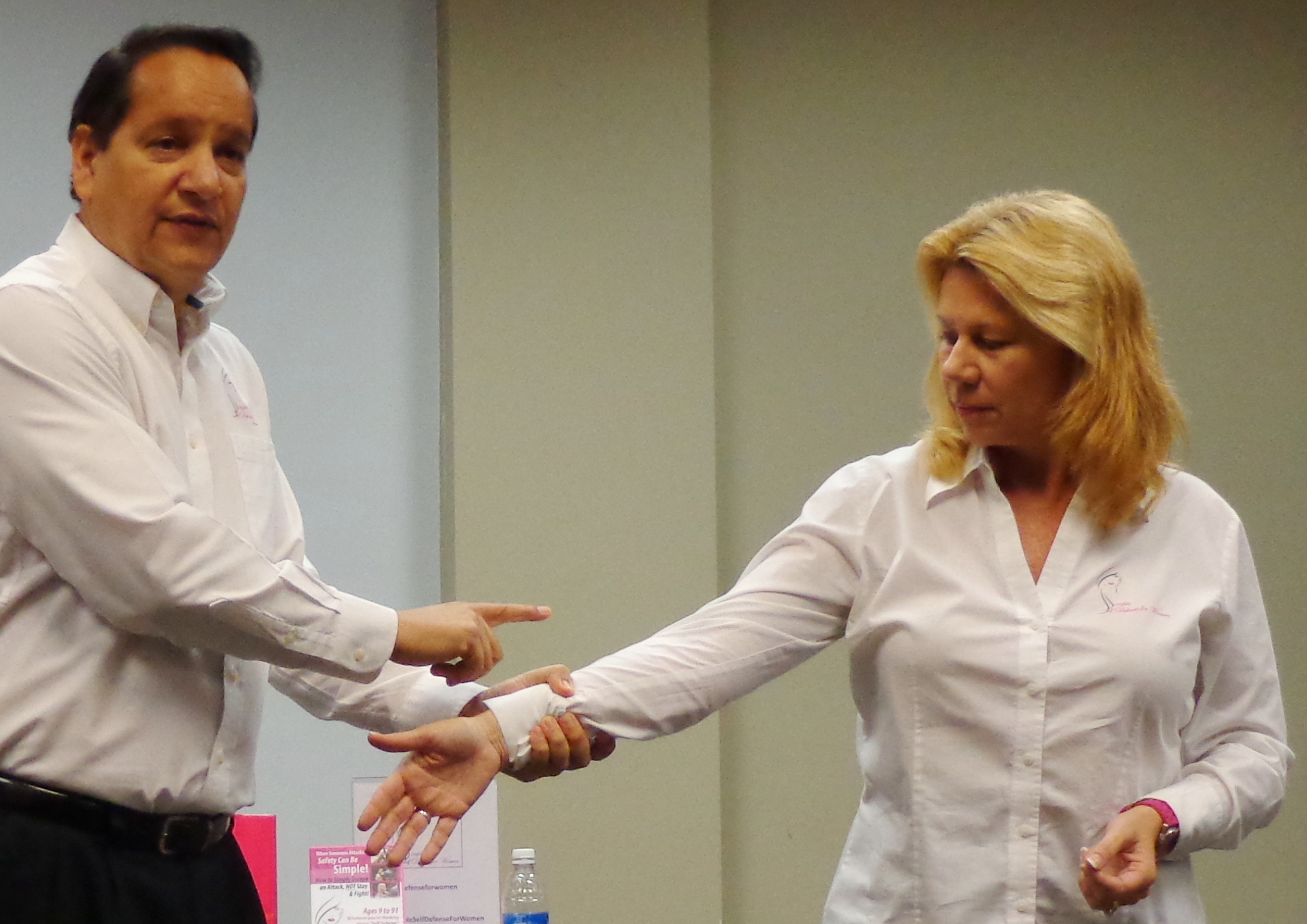 If you want a winning product/service, make it effective AND fun!
The ultimate question that most entrepreneurs often ask themselves is: Will this (my idea) be a success?
Personally, I know that I've asked myself this question a million times.
We often spend alot of time asking wondering what the key components of a successful venture are.
In today's BRANDMAKERS, I chatted with Charley and Tracy Vega, the founders of Simple Self Defense For Women, a program that helps women learn self-defense skills. In their classes, their students learn how to ESCAPE and not fight!
After speaking with them,  I realized that this couple learned the secrets of how to create a SUCCESSFUL training program that left them with satisfied and happy customers AND a sustainable business model.
I wanted to share their secrets and advice with you so that YOU can also create a kickass product and/or service.
How to use social media to your benefit to grow your audience base
Why figuring out why your product/service is important is crucial
The most important branding decisions you should be making with your business
How to motivate yourself to get past the "dreaming" stage to the "launch" stage…and more!
My biggest takeaway? Understand what makes your "brand" unique and play to those strengths. Develop your product/service around the benefits you are bringing to your customer. Never give up! (CLICK TO TWEET)
Check out the interview below!
Get BRANDMAKERS in my inbox each week!
How did you launch Simple Self Defense for Women?
Charley  (C): We have been in business since 2009. It started because we were looking at TV all the time and there was always bad things happening to people. Women and children were being abducted. I spoke with Tracy and was telling her that there are things you can do to prevent it besides fighting. There are ways that you can escape.  Tracy said, "Women don't want to be thrown around. They don't want to go to school for something like this. They are too busy with work, school, and family to go to class after class. Just show them how to get away."
We developed a program about escaping versus fighting.We teach women and children ages 9 to 91 how to escape an attack versus fight. It became pretty popular and then we created a DVD. We even used CBS studios for some of the inside shots. At the end of the filming they called me into the office and offered us our own TV show. We travel nationally and work exclusively with schools and organizations doing workshops and speaking across the country.
Tracy (T): We work with law enforcement as well.
What were some of the marketing tactics you used to launch your brand?
C: Today you can't do anything without social media. We use LinkedIn, Facebook, Twitter,  +. Before all of that was popular it was really about us putting ourselves out there on the Internet. The more interviews we had, TV  and radio shows we were on, it increased the hits on our website and our rankings on the search engines. Branding is about getting your name out there as much as possible. Our goal is to be a nationally recognized name and we are getting close to that.
T: In the beginning people  heard "self-defense" and thought karate on the corner. We had to show people that we were something different.
Do you do all of the marketing outreach yourself?
T: We are a do-it-yourself type of business. We have some volunteers that help us when we have workshops but the rest is Charley and I. We have someone who helps us with production.
What was your biggest branding challenge?
T: Making our business different and unique and having people remember us. People thinking that we were a karate school and that we were the same as everyone else. We are very unique. We only work with businesses and organizations and we have taken a professional approach to what we do. We have coined ourselves the Sonny and Cher of self-defense.
Charley is taller and I don't sing. People like the humor so we put a little humor in it.  They think you are going to show and there are going to be mats on the floor and some guy in a tee-shirt. We show up in business clothes. We've had people say, "Wow, you are the best dressed self-defense couple we've ever seen."
C: That is really our brand. When you look at us, we want people to see us as professionals.
When did you realize that what you were doing is so important?
C: We have taught thousands of women over the last couple of years. One of the ones that stand out is from a woman who was 73 years old and she was home with her male friend who was 81 years old at the time. She didn't know he had psychotic tendencies and in the middle of one of their conversations in the living room, he got up and started talking crazy and started choking her. She said, "I was turning blue and I thought I was going to die. I remembered your technique and I got away, ran out of the house, and called the police."
T: That would not be domestic violence or something you would expect. That was a very natural situation where you wouldn't expect anything to go wrong because he had not been diagnosed.
C: That goes back to branding. We don't teach how to fight. We show how to escape. You don't have to be strong to defend yourself. If you can do something to save someone's life there is nothing more rewarding on our end. Women are so appreciative of what we are doing. Once during a police station workshop, a woman was amazed that her daughter could get away from an adult male three times her size.
T: We do an anonymous survey and whoever fills it out, which is usually everyone, it is 100%. We have never had a single person say that they would not recommend us to someone else.
We have people who are complete strangers that will send us a message through social media and just say "We love what you're doing. Keep up the good work!" It is very rewarding.
C: Sometimes we will be at a place and people will recognize us. They will say "Grab me! Grab me!" so they can show us how they remember the technique.
T: People remember us because we are always together and that is what also makes us unique and is a brand all in itself. We are the business. We are the face. When people see us they know it's the business. It was funny because we had someone come to one of the last workshops and she said "You guys look just like your picture!" That is what they were expecting!
Why do you think you such a high success rate?
C: The program is very effective and we make it fun. If women are having fun they are going to remember it for the rest of their lives. That is our goal.
What is the most important branding decision any new business must make?
T: One of the first important things we did was creating a logo that was recognizable to women so that they knew it was for them. I think that is very important. When you look at a business name how often do you say, "What do they do?"
If your name doesn't tell what you are and what you do then it's a big mystery and it's not going to be successful. We've created a huge database for creating newsletters and distribution and that's huge. We have our database broken down by media, television, colleges, etc. Being able to know who your clientele is who to target and when to target them that is also very important. That is a constant process. It took 3-6 months of development and now it is constant maintenance.
C: Building a website is also important. You have to maintain it and change as things change. The website is your brochure. We needed to have a good website that had enough information to know what we do and how people can know how to contact us. For us, a lot of our videos are on there so people can see what we do and we get a lot of comments from people who have looked at our website and said, " I get what you are doing and this is great. That is why I called you."
TIP: Invest time in creating a quality website and logo. Make sure your brand is recognizable. (CLICK TO TWEET)
Is it hard running your business with your husband/wife?
C: I think there is a lot more positive than negative. There is a lot of things we do together but if you have what you are good at , utilize that, and let the other person take on the things that they are good at.
For us, it is good for our marriage because we spend more time together. We don't always agree on things but we remember that it is the business and it is a big part of our lives.
T: You can't have everyone with the same talent because you won't have any new ideas or creativity. When you have different people with different things that they are good at and you put it together that is what makes a good team. Charley is good at the website, I do the social media. He does finance. I do media bookings.
C: The only thing that is a negative is that you have to turn it off sometimes. Turn off the business role a little bit and just enjoy your personal life a little bit.
Is there anything you would have done differently?
T:  People need to consider whether they are an LLC or a non-profit. You need to get advice from a tax advisor to see what makes sense for you. In an organization like ours, there is a potential to have been a non- profit business. There are some large companies that will only work with non-profits, and then there are other companies who will work with for-profit. We are a unique because we are on both sides of that fence. We work with people and help them drive donations for different things whether its fundraising or towards a cause.
What are some surprising things you have learned about running  your own business?
T: You underestimate what you think it's going to take. In the beginning, we didn't think social media would be significant. We wondered how would we use that and how would it impact us. If we would have known more about it we would have done it sooner.
C: It takes a while to get the business running. You really need to  put together everything you need to plan your brand and image. You have to think about the name and what it means and is that name available legally to make it consistent. It  took us about 3 years to get our name trademarked and registered.
T: People don't realize that if people have the same name you have to prove to the trademark people who you are using it in multiple ways and they look and study that before they approve you.
C: If you don't maintain that and you see people are using your name you can potentially lose it if it is not maintained properly.
How important is it to get some type of real world experience before launching your own business?
C: You have to otherwise you learn by trial and that can be very costly.
T: There is a lot of small business programs to get professional help. On social media, I found that especially on LinkedIn. If you have questions that you want to ask someone specifically you can reach out and usually  get a response. Keeping your door and mind open is very important.
What makes you shine? 
T: My husband. He is a big believer. A big supporter. He is a professional speaker and he helped me improve on my speaking skills and how to conduct myself in front of an audience. Charley is a master martial artist. He has been doing it for 30 years. At first, this was a typical "I am He- Man" type of thing. He is not like that but there were no pinks or purples and it wasn't very feminine. I told him that we had to change this up a little bit.
When I started putting jokes in, he was like, "You can't do that." I realized people like that. When we did the television show we put that in there. What you think is good feedback you sometimes have to test it out and see if it works. That is one of the reasons we do our surveys. The chemistry between us is what we hear a lot.
What encouragement would you give to the person starting out that is not too confident about launching their brand?
C: There will be a lot of people who will say it cannot be done and you just have to ignore that fact.
T: You have to believe in the business. People will get to a place where they can say this is not working. You have to believe in it and you have to believe in yourself and keep pushing. Sometimes you have to take a step back because you get so into it and you don't get the results you want.
What was interesting to you about Tracy and Charley's story? Share your thoughts in the COMMENTS section below!
Connect with Simple Self Defense For Women Online:
Site: www.simpleselfdefenseforwomen.com
Facebook: www.facebook.com/simpleselfdefenseforwomen
Twitter: @defense4women
Linkedin: http://www.linkedin.com/in/simpleselfdefenseforwomen
YouTube: https://www.youtube.com/channel/UCApqjEnwyWJ6MtQxTQaFQaQ
TO GET A NEW BRANDMAKERS IN YOUR INBOX EACH WEEK, 

CLICK HERE
The following two tabs change content below.
Rana Campbell is the Editor-in-Chief and Founder of Ranacampbell.com, a site dedicated to personal branding and helping people learn how to SHINE in their personal and professional lives.
Latest posts by Rana Campbell (see all)
Tags: branding, brandmakers, business, entrepreneurship, product marketing