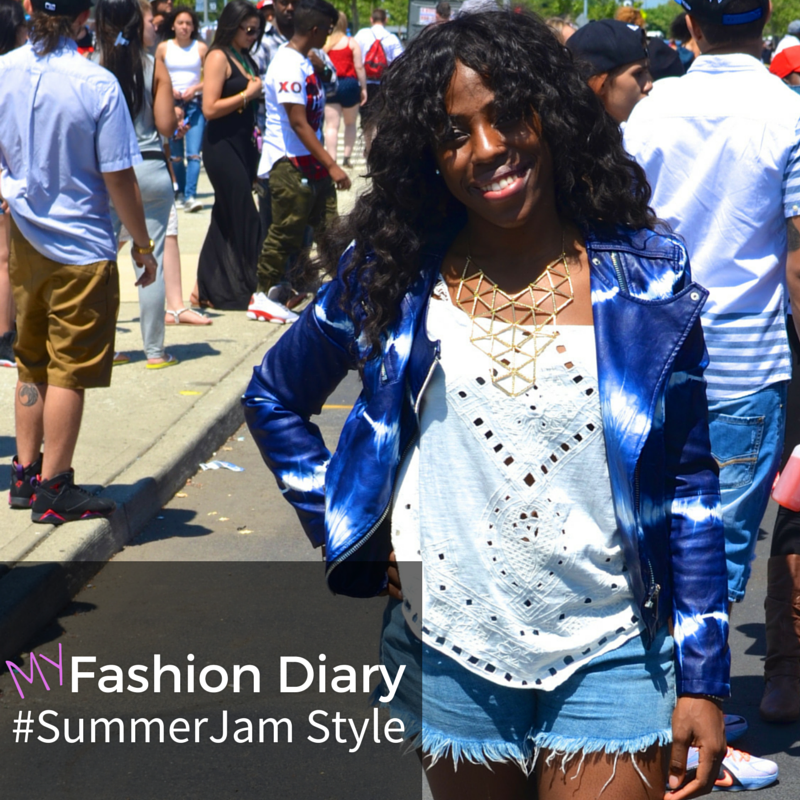 Hey Shiners,
On June 7, 2015,  I attended Hot 97's Summer Jam 2015 at MetLife Stadium in New Jersey. I attended with one of MadameNoire's editors as I had previously written an article about what Hot 97's vision and expectations for the show this year and was going to be working on part two of the story.
I know I don't normally do these posts, but I've been realizing it's important to let you in and learn a little more about me and the things I enjoy beyond this blog. Fashion and music have always been one of my loves, so it was awesome to be part of this great annual music festival. (Note: No, I was not involved or hurt in the riots that broke out  outside during the show. In fact, I had NO idea anything happened until AFTER I got home.)
With a lineup on the festival stage that included Teyana Taylor, B.O.B,  Fetty Wap, Joey Bada$$, Dej Loaf and stadium headliners including Omarion, Chris Brown, Wiz Khalifa, Fabulous, Kendrick Lamar, Big Sean, Meek Mill and more… I was so pumped. I'd never seen any of these performers before (sans Chris Brown circa 2006.)
My favorite performances of the night? On the Festival Stage, I'd have to go with B.O.B. His energy was unmatched and in my opinion, he had the best stage presence and command of the audience. On the main stage, I really enjoyed Fabulous' set and all the amazing NY legends he brought out (Lil Kim, Fat Joe, Redman & Method Man, Mase, Remy Ma, and more.)
Who was I most disappointed with? Chris Brown. As a man with so much talent, it was just so disappointing that he lip-synced a majority of his songs and appeared to be in a drunken/ drug-induced? stupor for most of his set. However, his dance skills were still on-point. I just wanted him to perform more, you know? That's one of reasons why I first fell in love with him back in the day. He was so great on stage. Now, I just wish he gets his 'ish together.
At the end of the day, one of the best parts of being at these outdoor hip hop festivals for me is being able to see how much music serves as a unifying force. While there were plenty of moments when the crowd seemed dull/borderline bored, the moments when everyone's jam came on (think Big Sean doing "I Don't F*** With You) and all you could see were arms swinging and people rapping with him were down right magical.
Long live summer concerts.
Check out my Summer Jam 2015 style photos below:
Outfit Details:
Jacket: Blank NYC
Top: Free People
Shorts: Blank NYC
Necklace/Ring: Aqua Jewelry
Shoes: Adidas
Special thanks to Bloomingdales Short Hills for allowing me to pull this awesome look (jacket,top, shorts, and accessories). It really spoke to my personality and helped me feel extra confident for my day out. I'm SO in love with this tie-dye jacket. I definitely think it spoke to my personality and allowed me to be me, even though I was in a totally new environment. The top was summer concert chic, and the accessories provided a subtle pop.
Even busy people like you deserve to take some time out from your busy schedule and do things that are just downright entertaining and fun. Go out and #seesomeworld and have fun doing it.
If you like this post,  feel free to check out my Instagram page (@rainshineluv)  and explore some more postings from my personal life.
Hope you enjoyed!
#shineon
What's your favorite part about attending summer concerts? Did you like my look?
Let me know in the COMMENTS section!
TO GET MORE WEEKLY AND BRANDING AND SUCCESS TIPS IN YOUR INBOX EACH WEEK, 

CLICK HERE
The following two tabs change content below.
Rana Campbell is the Editor-in-Chief and Founder of Ranacampbell.com, a site dedicated to personal branding and helping people learn how to SHINE in their personal and professional lives.
Latest posts by Rana Campbell (see all)
Tags: branding, fashion, style, summer concerts, summer jam 2015