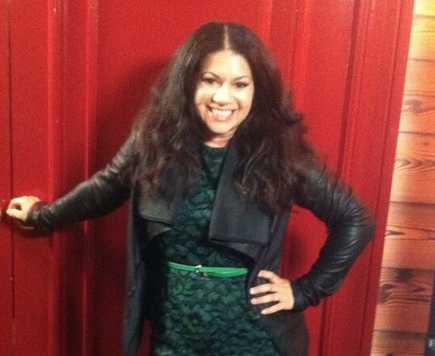 Success Tip: Streamline Your Focus
Sometimes the hardest part about starting the entrepreneurial (career, life, or personal) journey is the notion of starting. We often get stuck thinking, "But what if I fail?" One of the best things to do is to shift that mindset to,"But what if I win?" Start focusing on what you want and want you need to do to achieve those goals and you'll find yourself gaining the power of success.
Meet Stephanie Scott, the CEO and Chief Communicator-in-Chief of First and Last PR, a public relations strategic marketing ,  founded in 2012 and  headquartered in Englewood, New Jersey. After graduating from Spelman College in 1998, Stephanie started her own road to entrepreneurship (although she might not even have known it at the time.) That journey took her from interning and working at top magazines, to running the Communications & PR department at 3LAB Skincare, to eventually starting her own PR & marketing firm.
All those different career experiences outfitted her with the knowledge, confidence, and know-how to successfully launch her own business. Talking to her really put alot into perspective for me. Where we start may not always be where we end up. However, the path we take to get to where we end up is ALWAYS important.
I spoke with Stephanie about her career journey, what it's like running a beauty PR firm, her favorite business tips and tools, and how she keeps motivated.
My biggest takeaway?
Check out the BRANDMAKERS interview with Stephanie below!
Get BRANDMAKERS in my inbox each week!

How did you end up in the PR world?
I started out as a beauty editor. I was in college and didn't know what I wanted to major in. I wanted to do something that would be impactful. I started studying Media Studies (specifically women studies and how Black women are portrayed in the media.)
Upon graduation, I got an internship with Essence Magazine. That was my first foot in the door in terms of the Communications field. I met with the editor in the city and I asked her about different career opportunities and I told her about school. Essence was kind enough to pay a stipend that covered lunch and travel. I worked at Nordstrom part-time to supplement the other income. I learned a lot. After I graduated, I did more interning and I thought there would be a job waiting for me, but at the time there was not.
I then went into fashion. I worked for Tommy Hilfiger and Kenneth Cole in merchandising roles. I still kept in contact with the editors at Essence and at one point, a position opened. I applied and I got the beauty editor position. I worked for Essence, Seventeen, Natural Health…a lot of magazines that deal with life and style. After a while, I got restless and I felt like I wanted to do more. There was a luxury skin care company that was looking for a Director of PR. That was my first full-time job in PR. I was there for 3 ½ years and developed in the role of Director of Communications and then Director of PR & Marketing. I handled everything from national to regional press and helped develop our retail stores. I worked on changing their flash web site into an e-commerce store. I wore many hats and learned a lot of different roles.
Why did you decide to start First and Last PR?
I've always wanted to have my own firm. I wanted to give brands that personalized and individual attention that I knew I gave to people wherever I have worked. The different roles that I have had to hire PR firms at times. I've seen some good and bad things from those firms and wanted to do something different. In my mind I felt like you had to start a firm when you are a certain age and have done different things. One day, I got the courage to say, "Do it now." I stopped second guessing it and making it unattainable and I just did it.
What have been some of the biggest lessons you've learned as an entrepreneur? 
Understand your value as a service provider. While I have a lot of experience in beauty and PR and have worked on one of the top-selling music tours in the US, but my company is only three years old. What we are bringing is not though. The biggest lesson is understanding  the value the firm and I bring to the table for each of our clients.
Finding the right people to work with is also key. I started my company and made sure I got really good legal and business council to make sure I was doing the right things. I am very quick to say I don't know something and make sure I ask the right people for help. Last year was the first year I was able to hire someone full-time. It has been a learning curve and has been a lesson to learn who would be the right person.
How were you managing the company if you were the only person working full-time?
In the beginning,  it was just me and I was working from home. I did that for several months and I knew I needed to grow, get an office space, and bring people to work with me. I work with a company that provides a year round internship program for us. I also worked with freelancers as well. It depends on the roles. There are certain things that I am comfortable outsourcing to them, but I am a little more protective over client and editor needs. Slow and steady growth is a lesson I was taught early on and I try to follow that. I try not to take on too much. We are here to be around for a long time and down the road we need to keep it consistent.
How important is having a team if you want to start getting clients?
It depends on a couple of elements. The first thing to ask is: What is the work that you are being asked to do? What is on your plate? Do you need to work with a team to get the work done? The experience level is also important. Will you learn more working with a team and how important is that to you? Sometimes it is a personality thing. Some people thrive in independent situations. Other people prefer that team interaction. Part of it is identifying your strengths and what works best for you. I don't think there is a set rule for what that has to be. If I never had any of the experiences I have had I would never know that I should be running my own beauty and PR firm. There is beauty in trying and learning. As long as you are going out there to get there you will figure it out.
What has helped you be successful in owning your own business today?
Earlier on in my career when I was working as an editor, I would take the free time I had to assist with photo shoots and early morning TV shows. It doesn't matter what you are doing, it doesn't matter what your title is, as long as you are doing what you are supposed to be doing and are humble about it that is all that matters. My brand we are not about ego just about getting the job done and delivering. Those are the things that helped me early in my career that helped me to move forward.
One other key element that I learned earlier on is about having trust. Your brand is like your baby so a lot of business owners feel protective of it. When I first started, I wanted to do everything just so I'd be sure that it was done right. I still do, but have learned to have faith that everything will be fine. I've learned to rely on my community – professional and business – more.
I was doing an editor mailing once and loaded 100 boxes in my car to take to the post office because I didn't have a scale. My building neighbor saw me (on my last trip) and said that he had a scale and that I could use it whenever. I was too proud to ask for help before but have learned that we all need help sometimes and to trust in people. Don't use them but it's okay to lend and receive a hand. I still work very hard but trust in my team, my client's vision .and God. Everything will be as it should be.

How have you built your clientele over the years?
A lot of the clients I have gotten have been through word of mouth. I try to use social media when I can, but what I have done is to be active in things that are meaningful. It is being true to who you are and being focused. I try to let the work speak for itself. If you are doing right,  the right thing is going to happen.
I focus on what is really important to me. We are a beauty PR firm so I stay active in the beauty community. I attend beauty trade shows across the board. I am interested in what is happening in the industry. I think people get to know me at these events and get to know what we are doing. They want to become more involved.
I do not focus on marketing my own company. I focus on my clients and make sure they are happy and that we are delivering. People notice who we are and that has been working. I look for solid relationships and long-term partnerships with my clients. I want us to always be inspired and be inspiring and empowering what we are doing. I want to make sure who we have now is solid and we move forward. What grows from that will grow.
What is the hardest part about making it in PR?
I think the hardest part from a business standpoint is coming up with a price structure that makes sense to the client when they are new. Sometimes there is a lot of under bidding that you see. I may meet a client who says we want to work with you and we will pay this much. There is another firm that may have charged less but they end up not delivering so they get fired and then six months later they say let's do something different.
Another is balancing and how you manage everything:  the workload, personal, and social lives, your time…my daily challenge is fitting in a workout. The immediate challenges are figuring out how you define your brand. When I first started out in fashion, lifestyle, and beauty, I wanted to do everything because it is all some of the same wave. Then it dawned on me that I didn't want to do that. My first love has always been beauty and that is where I really am passionate. We streamlined things and now we only do beauty clients. Streamlining our focus has made a huge difference in what we are doing.
What makes you shine? 
Once I sink my teeth and know what I am doing…once I get that yes, it's like watch out! Now we know we have the green light, let's figure out how we are going to do it. I look for how we are going to execute and the best ways to execute. I don't stop. My passion is what makes me a bad ass and what makes me shine.
I have a very supportive family and they always have my back with advice or support for me no matter what that is. Knowing that they are there gives me enough security and confidence to execute what I need to. Going back to my up bringing, I learned from a young age to be appreciative and to know that starting small is important and okay. My desire to give back keeps me very happy and sane (in a certain way.)
What do you do to get through those rough times?
Certain days are more challenging than others. I am here and God put you here for a reason. He didn't put you here to fail. There are so many people in this world who have so many other problems than yours and they are still here doing it. You can sit there and feel sorry for a minute but in the larger scope of this world I feel like what I am here to do isn't about me. Suck it up and keep going.
What's your favorite book?
I am huge on books. One of my favorites  is Knowing Your Value. This is about women, money, and knowing what your worth.  Another is Girl Boss by Sophia Amoroso. I also like "Breaking the Time Barrier" from the CEO and founder of Fresh Books.
What did you think of Stephanie's advice? COMMENT BELOW!
Connect with Stephanie/First and Last PR:
TO GET A NEW BRANDMAKERS IN YOUR INBOX EACH WEEK, 

CLICK HERE
Disclaimer: Some of the book links above are affiliate links.
The following two tabs change content below.
Rana Campbell is the Editor-in-Chief and Founder of Ranacampbell.com, a site dedicated to personal branding and helping people learn how to SHINE in their personal and professional lives.
Latest posts by Rana Campbell (see all)