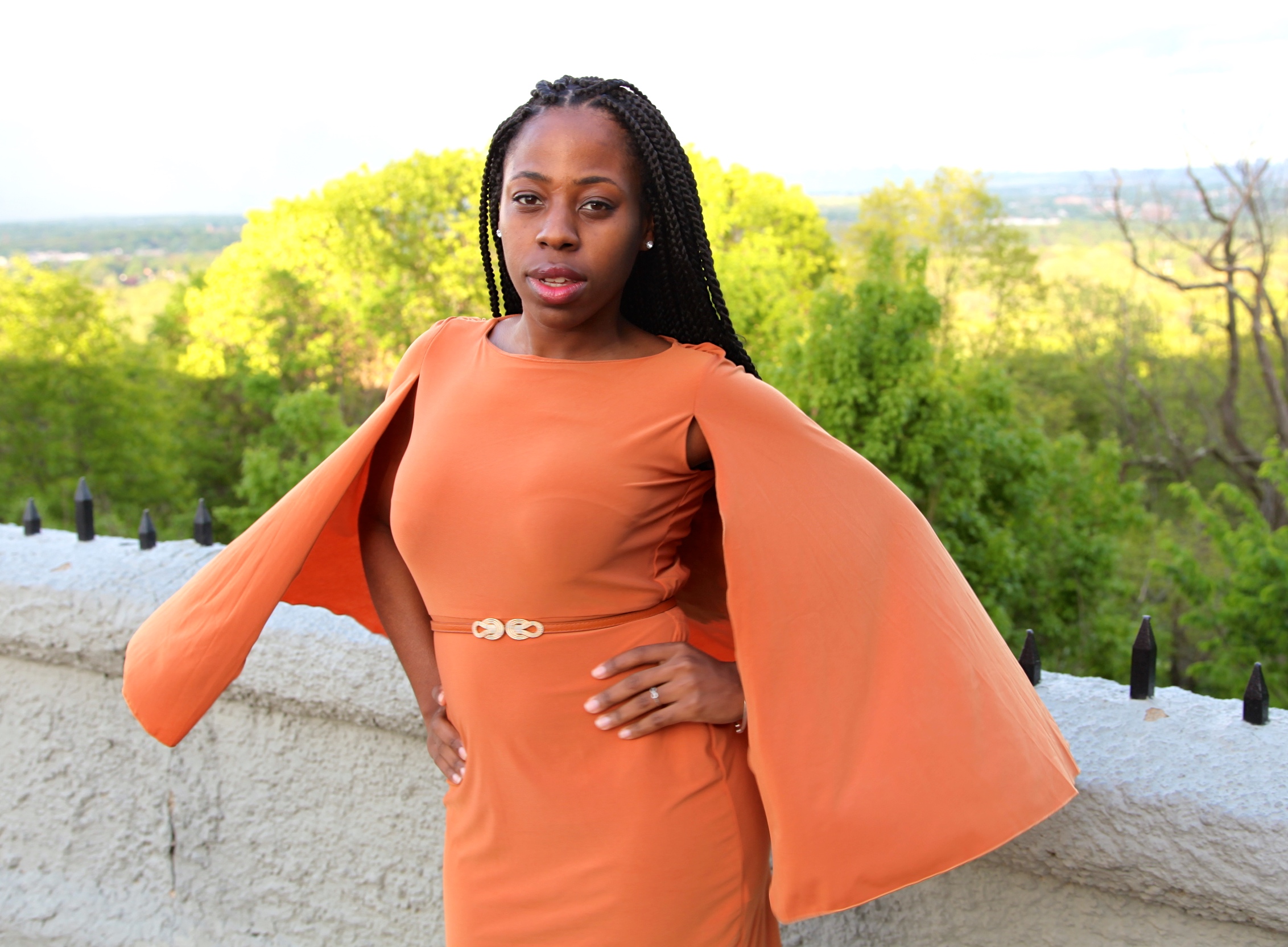 On May 20th, 2016 I turned 25 and decided to have a fun pre-birthday photo shoot. As many of you may know from my Instagram and Facebook pages, I am a huge fan of cute one of a kind statement pieces. As a lifestyle entrepreneur, "looking the part" of the message I teach my clients and audience is crucial. For my "turning 25" look, I was going for something that symbolized what 25 means to me: maturity. I found the "Sabrina Cape Sleeve Mini Dress" in orange on gcgme.com and thought that it would be the perfect complement to the mood of this shoot.
This year, my biggest hope for myself is that I continue to walk in the path of courage. Since graduating from college and starting my various platforms – ranacampbell.com & dreamsindrive.com – I've realized how much one can achieve by really pushing themselves to dig deeper. In the year of 24, I launched my first ebook. I started the Dreams In Drive podcast. I invested in myself and paid for a personal branding VIP day. I signed my first coaching clients. So much has happened that I am grateful for.
Let's toast to turning 25, embracing the year of change and growing in maturity!
Also, check out the photos from the shoot and let me know what you think. I think it's important to share a bit of me and the other things I enjoy beyond marketing and branding. I'm so excited for all this new year of life has to offer.
Outfit Details:
I'm wearing the Sabrina Cape Mini Dress courtesy of gcgme.com.
The dress was very easy to get on and the fabric was comfortable and fell nicely across my body type. The belt was a bit annoying to get on and took me a while to fasten properly. To be honest, I first ordered a medium and was surprised when I couldn't fit the dress. It was way too big! However, the company allowed me to do a FREE exchange and sent me a small instead, which fit perfectly. If you are thinking about ordering this, I'd suggest that you check the size chart on the site. Ordering a size smaller than you normally wear would be recommended. Overall, I really loved the dress and double loved the color. The orange complemented my skin tone and was a departure from my normal "little black dress" look.
Use the code "RANACAMPBELL" for a 10% discount + free express shipping.
Coupon code expires: June 30, 2016
Thank you all for all the support thus far! I truly and deeply appreciate it.
This dress was sent to me by gcgme.com for reviewal purposes. All opinions are my own. 
The following two tabs change content below.
Rana Campbell is the Editor-in-Chief and Founder of Ranacampbell.com, a site dedicated to personal branding and helping people learn how to SHINE in their personal and professional lives.
Latest posts by Rana Campbell (see all)