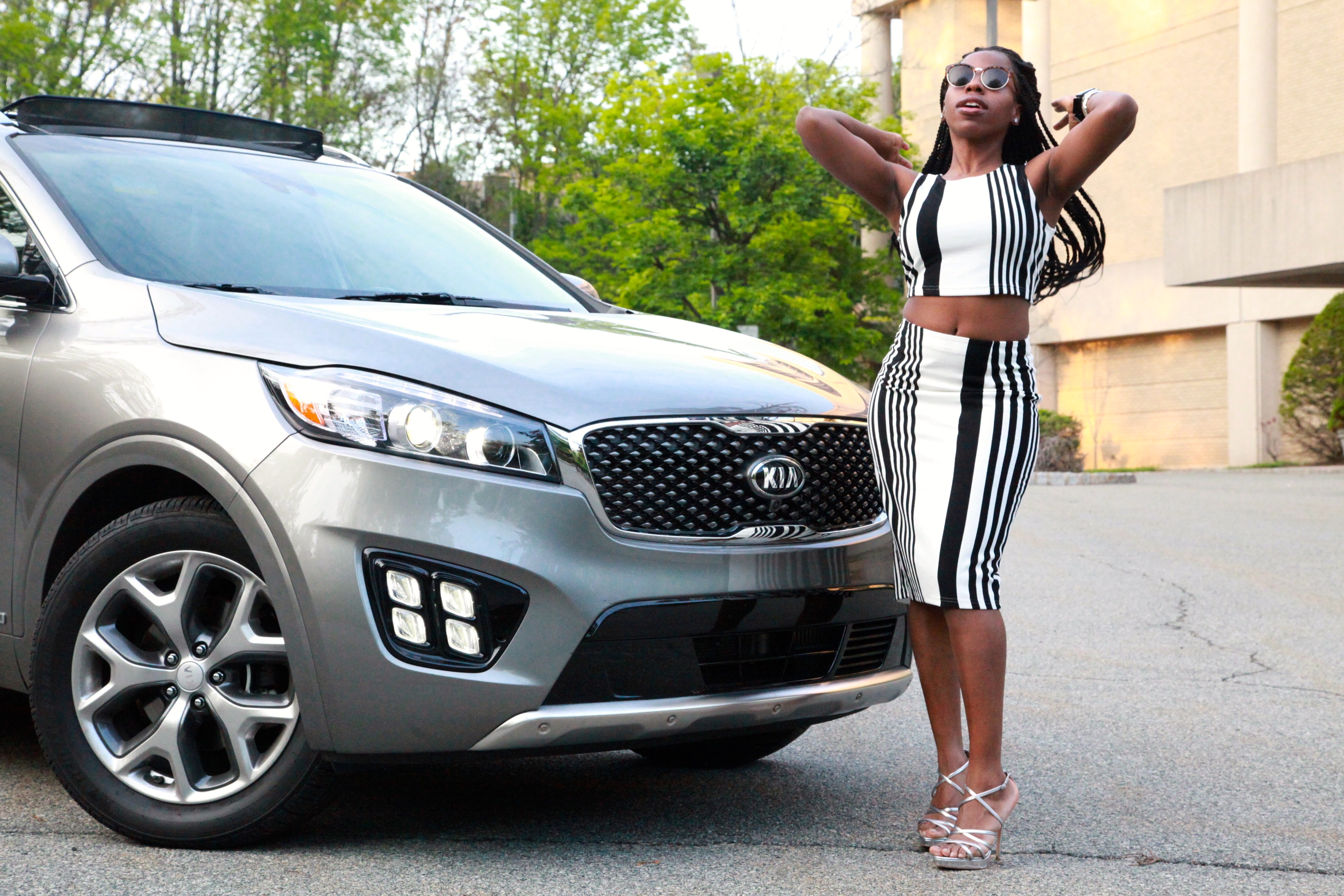 Two weeks ago, I turned twenty-five. Since I was going to be celebrating my birthday, I had BIG photo plans. I knew that my followers on social media would be anticipating me posting photos for my BIG day so I didn't want to disappoint. Since the folks over at Kia were going to let me test drive a 2016 Kia Sorento SXL AWD for the week, I thought incorporating it into my shoot would be a good idea.
As any of you know when planning an Instagram shoot (or planning any type of shoot for any of your social media platforms), you should have sort of strategy before shooting.
I came up with two looks that i thought would resonate with my followers based upon my current engagement and relationship with my community.
Look #1: #Behindthescenes, #Happy, #Casual Rana (This was shot the morning of my birthday and took about 10 minutes. It was a easy, on-the-go shoot.)
Look #2: #Badass, #Bosschic, #ModelStatus #Styled Rana (This was shot on my actual birthday weekend.)
Both looks when paired with the Kia Sorento were still #fly and #fabulous!
Over the past few years of building my brand online, I've discovered a few tricks to taking amazing Instagram photos that people actually like. Here are the tips that I personally used to take my #birthdayshoot photos. If you check my Instagram page @rainshineluv, you'll see that people really liked these and engagement was great!
How to take amazing Instagram photos that people actually like:
1. When in doubt, natural light is best. I'm a fan of natural lighting. If it's really sunny when you're shooting, make sure the sun is in front of you (the subject). If you're the photographer, always make sure the sun is behind you. This helps eliminate shadows. Also, shooting in natural light helps bring out colors so that you don't have to do some much post-production editing. Light is your best friend when it comes to photo-taking.
2. Find the right background. If you're shooting #streetstyle, your background is still super important. Make sure whatever is behind you (the subject) will be part of the look and feel you want for the shoot. Don't use backgrounds that are cluttered, junky, or distracting. Me having cars and buildings in my backgrounds worked for the aesthetic I was going for. It told the #behindthescenes story that I wanted.
3. Framing is everything. When you are shooting or cropping in post-production, only keep things in the frame that you want. Think: How tight can I get this crop so that the photo is still balanced (rule of thirds), yet visually interesting. Make sure that your Instagram photos don't have unnecessary "noise." The focus of the picture should be you.
3. Know what your audience wants to see + shoot around a theme. For this shoot, I knew that my audience wanted to see me in action on my birthday + also wanted to see styled shots with me and the car. All types of creatives follow my page, but I know most of them want to be inspired in some way. So, I made that my plans. In the shot above, I show off the interior of the car, but you can also see my accessories. It's the details that count. Remember that.
4. Avoid harsh filters if you can. I'm not a fan of filters and heavy retouching. I HARDLY ever use them. Since I shoot on a DSLR, I don't really have to do too much photo editing in post-production.Also, even though I'm not into makeup, my beauty "look" has always been more natural, so if my face isn't beat to the gods or if I have a breakout or blemish, I pretty much go with the flow. However for the editing that I do, I usually use Instagram's in-app editing suite. My favorite adjustments to make? Brightness, Contrast, Shadows, Saturation, and Highlights. Play around and see what works for you.
5. Create a branded visual aesthetic. Most of my style shoots on Instagram are usually bright, focused, and accentuate what I'm wearing. When I'm editing, I always try to brighten photos and make sure the colors on my clothing POP.
6. Use a non-phone camera if you can. I have an iphone 5 (don't laugh) so I hardly use my iphone camera for shooting style posts. Instead I go the big boy route. The camera I used for these photos was a Canon 5d Mark II. Personally, I love the image quality from this DSLR. It's a bit on the expensive side, but there are alot of low-cost options out there. One note: There are some people out there who take DOPE iphone photos. Kudos to y'all!
7. Don't lose your personality. One of the things I pride myself about my brand is that I don't think I've lost myself. When you see a photo of me, that's really me. Have fun with your photos! Spice things up! Try something new. When people can feel you through the screen, they are more likely to double tap. My photos aren't about being perfect, it's about being real.
8. Use hashtags + post at the right time. One of the biggest things that will help your post engagement is utilizing hashtags and posting at the right time. Make sure that your profile is public so that your hashtagged photos will show up in other people's feed. Take the time to do hashtag research and find popular tags within your niche. Also, experiment with posting times. What type of photos usually get the post engagement and when? I find that motivational posts work better for me in the morning, while style posts are better for the afternoon and late evening. This varies by profile. A great app for hashtag research that I use is "Tag O Matic." For Instagram analytics, Iconosquare is another great one.
If you want to know more about the 2016 Kia Sorento, here some of my favorite things about the car that I really enjoyed:
1. Space. I'm not a SUV fan, but the space in the Kia Sorento was amazing. Roomy, yet not overwhelming. When I went back to driving my own car, I thought to myself "Why is my car so small?!" Plus, I loved the panoramic roof with the power sun shade.
2. Technology. Since driving the Kia Optima, I enjoyed the Kia technology package in the more deluxe models. My favorite thing? I love the 36o camera view. If you live in a community where you have to do a lot of street parking, this feature comes in handy. I also like that the trunk has a button for automatic closing. Small detail, but very handy! Other perks include XENON HID headlights, lane departure warning system, electronic parking brake and smart cruise control.
3. Doors that light up at night. This might not seem like anything much, but when it's dark outside and you have to walk to your car alone, it's night to not have to fumble for the door handle or anything. Once you hit unlock on your key, mirrors and door handles light up.
4. Power. The car drove well and sat smoothly on the road. I was also pleasantly surprised by power. The car comes equipped with a 2.oL Turbo gas Direct Injection 4 Cylinder Engine. I actually have NO idea what that means, but the car was still fast enough for me on the highway!
One thing that I didn't like about this was the mileage. As someone who does a good deal of city AND highway driving, I'm not sure a car that averages around 22 miles per gallon is the best fit for me.  Maybe I'm picky, but the more gas I get per gallon, the happier a gal I am.
The model that I'm driving retails for $41,700. This is definitely NOT in my price range at the moment. Overall, for a young professional like me, I think this car would make for a great road trip ride with friends. It's great on space, okay on mileage, and has a lot of features and internal settings to keep everyone entertained. To learn more about the 2016 Kia Sorento, click here. 
PS – If you want to know some more of what I thought about the car, check out this post where I chat with one of my followers about my overall experience. She was currently considering buying a Kia, so I gave her my honest opinion.
This is not a sponsored post. The car was given to me to drive by Kia Motors USA for review purposes only. All opinions are my own. 
The following two tabs change content below.
Rana Campbell is the Editor-in-Chief and Founder of Ranacampbell.com, a site dedicated to personal branding and helping people learn how to SHINE in their personal and professional lives.
Latest posts by Rana Campbell (see all)